Veterans and Military Families
Investing in Veterans, Building the American Dream
November 6, 2017
Share Article:
As we celebrate Veterans Day, we are thinking about the men and women who have served our country overseas and here at home. At Charter, we're focused on supporting them and their families as they transition to civilian life.
Veterans play a significant role in our workforce and are represented across all business units and in varying levels of the organization.
The result of proactive recruitment and expanded outreach, veterans make up 13 percent of our workforce and as part of our commitment to growing our highly-skilled, diverse and insourced workforce – we're hiring more veterans and increasing employment opportunities for military spouses as well.
This year alone, we've hired approximately 4,000 veterans and we are committed to increasing our overall veteran hiring by 5% over the next three years.
We're doing this through a variety of partnerships that support our efforts to recruit, train and retain veterans across our footprint.
Through initiatives like our Spectrum Broadband Technician Apprenticeship Program – which we are expanding into a national program, and our participation in the Ft. Bragg Career Resource Center, the Military Spouse Employment Program and Hiring our Heroes Corporate Fellowship Program, we're actively hiring military members and their families, helping them to achieve successful post-military careers and achieve the American Dream.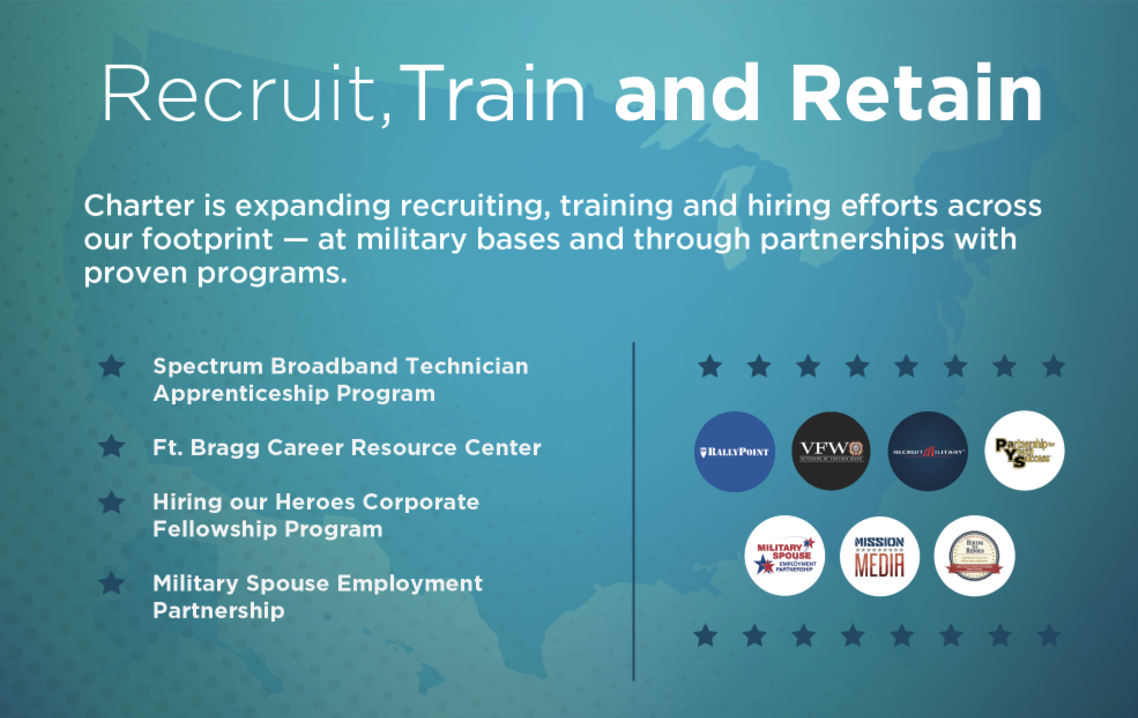 We have both the obligation and the opportunity to tap into the vast skills of a new generation of returning soldiers and provide them the same opportunity afforded to the Greatest Generation. On Veteran's Day, we thank our veterans for their service and are committed to doing our part to help them build second careers in today's economy.