Veterans and Military Families
Charter's Continued Commitment to Military Veterans
August 26, 2019
Share Article:
Charter's 98,000 employees in the 41 states we serve are the key ingredient to helping us deliver on our core business objective of providing superior products with great customer service. That's why we are constantly building on our commitment to attract, train, and retain a highly skilled and diverse workforce, which includes hiring more veterans and increasing employment opportunities for military spouses, and are proud to employ over 10,000 veterans– 11% of our total workforce– as of the end of 2018. Military veterans return home from their service with valuable skills and Charter is committed to helping them build on their talents and translate them into a meaningful career within our company.
That commitment was on display this week as Marti Moore, Senior Vice President of Technology Services at Charter Communications and Air Force Veteran, spoke on the "Transition and the Impact on Military Recruitment, Readiness and Retention" panel at the Joint Women's Leadership Symposium (JWLS) in Washington, D.C. The JWLS is the largest gathering of women in uniform in the nation and provides professional and personal development, leadership workshops and transition information for service woman. On the panel, Moore and others spoke about military resources dedicated to transitioning, overcoming challenges of returning to civilian life, and their own experiences in transitioning out of the military.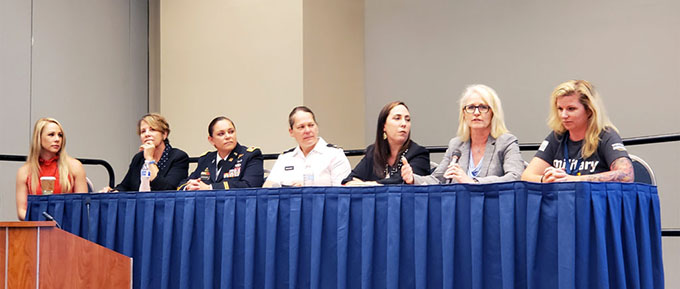 Participating in panels like this is just one example of Charter's overall commitment to veterans. Marti Moore co-chairs a recently launched Business Resource Group that assembles employees who have an interest in veteran's issues. Our Broadband Technician Apprenticeship program, certified by the U.S. Department of Labor, is aligned with our broadband technician career progression that allows eligible veterans to receive GI Bill benefits in addition to their regular paycheck from Charter, helping ensure a smoother transition to civilian life. We're also engaging with veterans and their spouses by attending veteran job fairs and through partnerships like the Fort Bragg Career Resource Center, Department of Defense's Military Spouse Employment Program, and the Department of Commerce's Hiring Our Heroes Corporate Fellowship Program.
According to the Veterans Administration, there will be more than 3.4 million veterans who served in post 9/11 conflicts by 2020. Charter is dedicated to making sure that when they leave active duty, veterans receive a hero's welcome with a career they can be proud of and the support required to ease the transition to civilian life.