Veterans and Military Families
Charter Is Growing Jobs for America's Veterans
May 31, 2017
Share Article:
On this last day of May, Military Appreciation Month, it is fitting to think about the men and women who have served our country and reaffirm our commitment to supporting them in their transition to civilian life.
Charter has long valued a culture of service. We have been dedicated to bringing jobs back to the U.S. to create a strong, well-trained, diverse workforce to provide our customers with the most innovative products and services and superior customer service. Veterans play a significant role in our workforce and are represented across all business units and in varying levels of the organization. The result of proactive recruitment and expanded outreach, we are proud that veterans make up 13 percent of our workforce and are committed to increasing our hiring of veterans in the years ahead.

We were in Missouri today with Governor Eric Greitens, a decorated veteran and former Navy Seal, to announce plans to expand our Broadband Technician Apprenticeship Program from five states into a national footprint. Through this expansion, we intend to grow enrollment in the program 20 percent over the next two years.
Each participant in Charter's Broadband Technician Apprenticeship program completes thousands of hours of on-the-job training, along with extensive classroom instruction, over the course of the program. The apprenticeship program has proven to be successful with more than 1,000 technicians currently enrolled in five states that are home to large military bases (Missouri, Nebraska, North Carolina, South Carolina and Texas). Veterans who complete the program are certified broadband technicians and can collect tax-free money from their GI Bill benefits in addition to their Charter paychecks.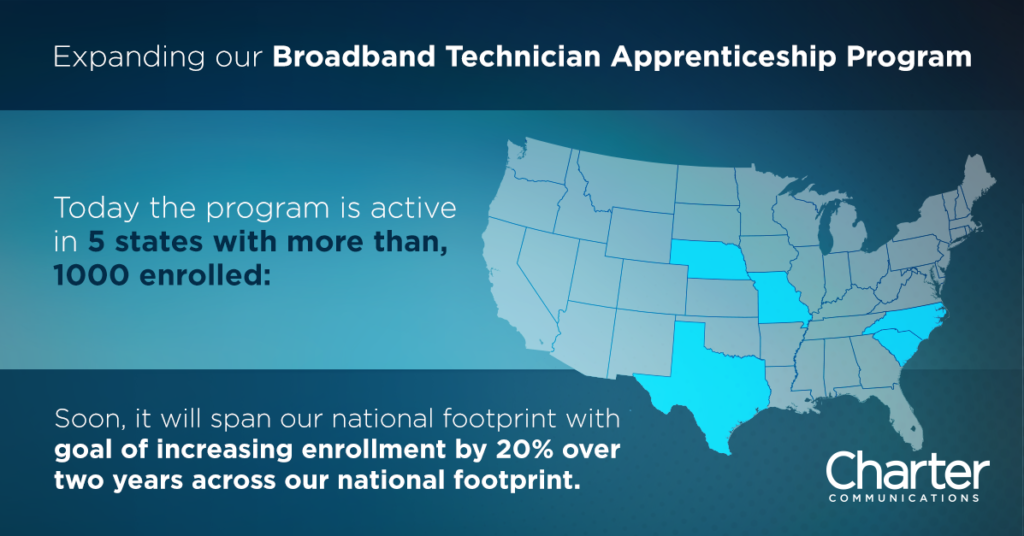 In addition to growing our apprenticeship program, Charter will be growing our partnership with military bases to enhance our recruiting and training. This will include efforts to establish onsite technical training centers at some of the largest U.S. military bases.
We understand that returning to civilian life for military veterans can be challenging. After leaving active duty, veterans may find it difficult to reconnect with family and friends, find a place to live and secure a good paying job. The apprenticeship program, along with our other recruiting and training efforts, provides veterans with the opportunity to build on the technical skills they already possess and learn to start a second career and become valued members of the Charter family. These are more than jobs to us — we are providing these veterans with career opportunities, with good pay and benefits that they can build their futures on.
We're excited to continue growing American jobs, improving our products and deepening the level of service we offer our customers, and strengthening the communities we serve.
To learn more about Charter career opportunities, active military persons and veterans are encouraged to visit here.