Spectrum Internet Assist
Charter Continues to Help Michigan Seniors Gain Digital Literacy
May 15, 2018
Share Article:
As technology becomes more and more prevalent in our day-to-day lives, it's a reminder that those who don't have access to broadband run the risk of being left behind and disconnected. That is why Charter is committed to bridging the digital divide for some of the most vulnerable groups, especially seniors.
According to the Pew Research Center's May 2017 technology study, only 46% of seniors living in households earning less than $30,000 a year go online and 27% have high-speed internet at home. The same study found that while the overall share of seniors who have home broadband has risen, it is increasing at a slower rate than overall internet use.
These statistics demonstrate that while we're making progress, there is still more to do to help seniors access and use broadband. That's why Charter is proud to offer a unique low cost broadband program to eligible low income seniors across the 41 states we serve. With Spectrum Internet Assist, eligible low-income families and senior citizens who might otherwise not be able to afford it have access to true high speed broadband, 30 Mbps for only $14.99 per month. It also includes standard features like e-mail, internet security software, and a modem at no additional charge.
Another important tool to bridge the digital divide are our Spectrum Learning Labs. These labs serve as hubs for the community, allowing members to get online and attend classes to help them improve their digital proficiency. This week, Charter was proud to open another learning lab at the Grand Traverse County Senior Center in Traverse City, Michigan. This new lab was made possible from a $5,000 grant from Charter that enabled the center to purchase new computers for its computer lab, along with making necessary server upgrades, installing a new charging station, and providing free or reduced fees for digital learning classes. We were honored to be joined at the ribbon cutting by U.S. Rep. Jack Bergman (R-Watersmeet) and Lori Wells of the Grand Traverse County Senior Center Network.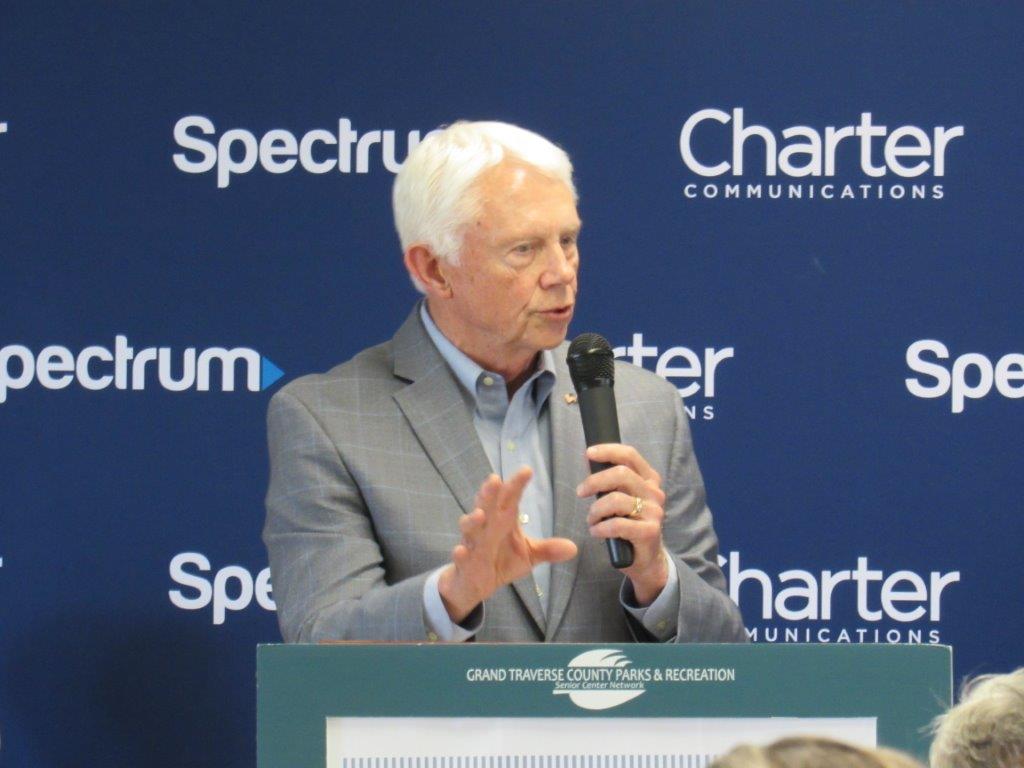 At the opening, Rep. Bergman said, "I'm honored to be back in Traverse City and to join with Charter and the Grand Traverse County Senior Center Network as they launch the new Spectrum Learning Lab. I applaud Charter for their continued investment in the residents of northern Michigan communities. The work they have done, and continue to do, to provide seniors with connectivity and technology training is vitally important to the well-being and success of our senior population."
The equipment is already helping seniors become more digitally savvy and save money at the same time. During this past tax season, volunteer tax preparers used the upgraded equipment, purchased with Charter's funding, to help seniors e-file their tax returns, saving them over $52,000 in filing fees and netting returns exceeding $360,000.
When we increase digital literacy, we increase opportunities for the communities and people we serve. This new learning lab in Traverse City is just one example of Charter's commitment to helping close the digital divide in Michigan and beyond. By helping more seniors get online and gain a digital education, we can ensure they can stay connected to make the Internet more meaningful to their lives.