Network Investment and Access
Charter Announces $5 Billion Initiative to Connect Unserved Americans
February 5, 2021
Share Article:
Investing $5 Billion to Connect Unserved Homes and Businesses to Reliable, High-Speed Broadband
Every American deserves access to reliable, high-speed broadband – and Charter is committed to being part of the comprehensive solution needed to address two important gaps: those who have no access to broadband services and those who have not adopted broadband service. We recognize the importance of the services we provide to families, businesses, and communities across America, and remain committed to expanding connectivity and bringing more people online.
A recent report from the Federal Communications Commission shows that 14.5 million Americans remain unserved – unable to access high-speed broadband service. About 11 million of them live in rural areas. To help close the broadband access gap, Charter has announced a $5 billion dollar investment to connect more than a million currently-unserved, mostly rural families and small businesses to reliable broadband service with speeds of up to 1 gigabit per second.
"The pandemic has further highlighted the need for broadband availability and adoption and Charter is committed to furthering its efforts as part of the comprehensive solution needed to address these challenges. As Americans across the country increasingly rely on broadband to work, learn, access healthcare and stay in touch with family and loved ones, bringing broadband access to more unserved areas should be a priority for all stakeholders.
Charter's new multibillion-dollar buildout initiative further highlights the importance of the sophisticated broadband networks that the U.S. cable industry has built over several decades, and the industry's commitment to the local communities it serves. As we continue to help provide more Americans with reliable access to the internet ecosystem, our hope is that federal, state and local authorities, other private companies, pole owners and broadband providers will work together and play a pivotal role in expanding networks to unserved areas."
– Tom Rutledge, Chairman and CEO of Charter Communications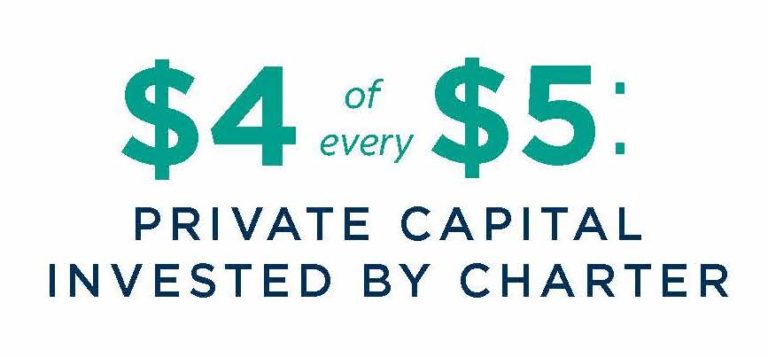 Charter expects to invest approximately $5 billion to support this infrastructure expansion, offset by $1.2 billion in support won in the Rural Digital Opportunity Fund auction. Thanks to this public-private partnership, Charter will reach many more homes and small businesses than it otherwise would have because of the high costs to reach these areas. This expansion will be in addition to Charter's ongoing annual investments in infrastructure and technology.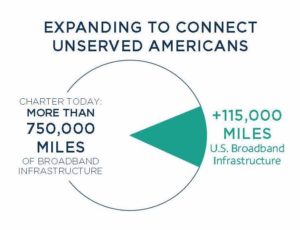 Charter will also add significant resources to our construction department focused solely on adding nearly 115,000 miles of new network infrastructure to our more than 750,000 existing miles. We also plan to hire more than 2,000 employees and contractors to support the expansion. Charter employees already earn more than double the federal minimum wage and we're increasing it so that every employee earns at least $20 per hour in 2022.
Funding rural broadband deployment is one part of solving the deployment gap, but there are also many federal and state legislative and regulatory fixes that can increase the speed and reach of rural network expansions. Broadband deployments are dependent on a variety of external factors, including when necessary state applications and permits are approved and the speed of the make-ready and utility pole permitting and attachment processes. With fewer homes and businesses in rural areas, broadband providers need to access multiple poles per home, as opposed to multiple homes per pole in higher-density settings. As a result, pole applications, pole replacement rules, pole rental fees and the issues and disputes arising from them are all factors that can have a significant impact on build-out timing and speed to completion. We continue to work with elected officials and regulators at the local, state, and federal levels to reduce the obstacles to deployment and expedite connectivity for those who lack broadband.
By deploying high-speed broadband service to more people, we are empowering them to thrive in the 21st Century, regardless of whether they live in a small town or an urban center. That drives economic growth and powers opportunity – leading to a stronger, more equitable economy. With this new multi-year, multi-billion-dollar investment, we are excited to do our part to increase opportunity by continuing to help close the broadband access gap.
Broadband internet access is more important than ever to education, employment, healthcare, and daily life. Yet tens of millions of households and businesses – especially among vulnerable communities and in rural areas – still lack access or have not adopted broadband internet service. Learn more about Charter's efforts to help every American gain reliable access to the internet ecosystem here.