Network Investment and Access
More Opportunity for More Americans: Advancing Access to Broadband, Improving Broadband Adoption, & Protecting Privacy and Security Online
January 21, 2021
Share Article:
The challenges of 2020 urgently laid bare the divide between those who are able to harness the power of reliable, high-speed internet service and those who are not. Broadband internet access is more important than ever to education, employment, healthcare, and daily life. Yet tens of millions of households and businesses – especially among vulnerable communities and in ruralareas – still lack access or have not adopted broadband internet service.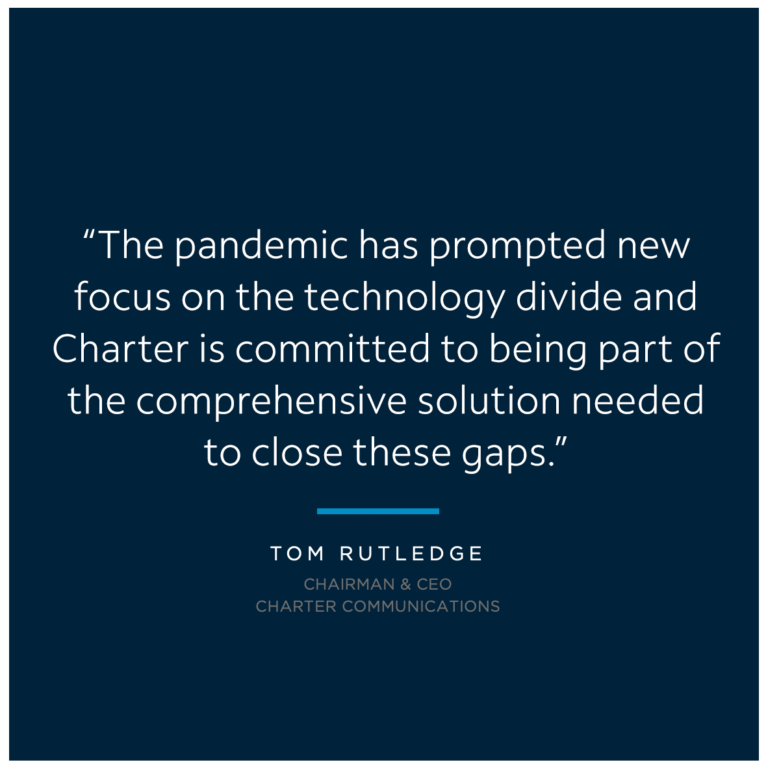 With a new year, a new Congress, and a new Administration, the time is ripe to comprehensively address this divide. Charter recognizes the critical role we play in continuing to help to solve these problems and we will continue to invest in solutions that will:
Advance Access
Improve Adoption
Protect Americans' Privacy and Security Online
The importance of closing the technology divide is something we can all agree on. Every American should have reliable access to the internet ecosystem. Charter stands ready to partner with policy makers and other stakeholders to help bring the benefits of broadband and access to the internet ecosystem to those who need it most.
ADVANCING ACCESS TO BROADBAND
As we work to ensure every American has reliable access to the internet ecosystem, private companies will continue to play a pivotal role by expanding their networks to unserved areas. Charter has extensive experience in network investment and expansion: in the last three years alone, Charter invested more than $20 billion in infrastructure and technology and extended our network to reach an additional 2.5 million homes and businesses.
Many programs offer government funding to help internet service providers build into areas that would otherwise be prohibitively expensive, but the programs need to be upgraded and modernized. With the right changes, these programs could help more unserved Americans access the high-quality, high-speed internet service they need to meet today's technological and connectivity needs.
Maximizing Government Investment in Broadband Deployment
Federal support programs should maximize the impact of taxpayer funds, but too often they fail to prioritize truly unserved areas, include burdensome requirements that make the expansion too complicated or uneconomic even with the subsidy, or rely on inaccurate maps of where broadband is available and where it is not. Modernizing programs would ensure limited broadband investment dollars go further while also opening the door to greater involvement from broadband providers.
Modernizing Telecommunications Infrastructure
The backbone of our nation's communications infrastructure relies on attachment of wires to simple utility poles. Expansion projects require broadband providers to attach cable to hundreds or even thousands of them. Unfortunately, existing rules and enforcement processes are inconsistent and often lead to significant and unnecessary delays and cost increases. The problem is exacerbated in lower-density areas: with fewer homes and businesses, providers need to access multiple poles per home, as opposed to multiple homes per pole in urban settings. Simple reforms could address these concerns and encourage and speed expansion. The FCC recently clarified existing rules to require fair cost-sharing between pole owners and broadband providers and we look forward to more action to increase consistency and transparency as well as expedite the resolution of complaints that arise.
IMPROVING BROADBAND ADOPTION
No American should be kept from accessing the internet ecosystem because of an inability to afford service or equipment or due to fear or a lack of digital literacy. Charter has long been committed to helping to close these gaps. To make broadband more accessible for low-income learners and seniors, we offer Spectrum Internet Assist, an industry-leading high-speed, low-cost broadband service for qualified customers. To increase adoption and access to technology, we offer philanthropic support to community organizations and have doubled our yearly commitment to the Spectrum Digital Education Grant program, which provides computers, digital education classes, and technology labs for thousands across the country. And as the country has battled COVID-19, Charter connected nearly 450,000 students and teachers to reliable, high-speed broadband service for free for two months, kept nearly 700,000 customers connected when they faced economic hardship, gave small businesses a month of free service, and forgave $85 million in customers' overdue balances when they had a hard time paying bills due to COVID-related hardship.
Looking ahead, better federal programs are needed to close the affordability gap for low-income households. Just as the federal government has increased funding for unemployment and groceries for those in need, there is more to do to encourage greater broadband adoption and expand access to service and technology.
Supporting the Emergency Broadband Benefit Program
Charter is working with the FCC to help ensure the new Emergency Low-Income Broadband Benefit program recently passed by Congress is well-positioned to make a significant impact as quickly as possible. We supported this bipartisan proposal and see potential for it not only to solve the immediate need, but also to create the momentum needed to develop a sustainable long-term solution.
Modernizing Federal Broadband Support Programs and Funding
The Universal Service Fund (USF) Lifeline program should be revamped and modernized to address today's connectivity needs – access to reliable, high-speed broadband. In the coming months, Congress, the FCC, and industry experts must work together to establish the best, most targeted framework for reform to help all eligible households get and stay connected. A new program should include three core principles:
Consumer Control | The benefit should go directly to consumers to ensure they are empowered to purchase broadband services from the provider of their choice just like any other consumer. The benefit could be delivered using a mechanism similar to that used by the Department of Agriculture's Supplemental Nutrition Assistance Program.
Encourage Broad Provider Participation | All providers should be encouraged to participate and legacy regulations that prevent participation should be permanently eliminated.
Modernize the Funding Mechanism | The current funding mechanism – assessing a fee on interstate revenues – is not sustainable. In January 2011, the contribution factor was 15.5%. Last month [December 2020], the Commission announced that the rate is increasing to 31.8%. This fee is regressive, hitting the most vulnerable low-income Americans the hardest. Funding should be derived from general revenues, as it is for other low-income support programs.
Addressing Other Significant Barriers to Adoption
Subsidies for broadband service and equipment are not enough to address adoption issues, for the causes go far beyond price. A recent study of the FCC's Lifeline Broadband Pilot Projects demonstrated "the difficulty of encouraging low-income people without connections to sign up even with large discounts." The same study also found subscribers "generally expressed a preference to avoid digital literacy training classes." From concern about involvement by the government or service providers to distrust of the companies and content available online to issues as far ranging as access to banking services to immigration status to culture, more research is needed to understand and address other factors that can be a significant barrier to closing the digital divide.
PROTECTING AMERICANS' PRIVACY AND SECURITY ONLINE
As Americans increasingly rely on the internet to receive healthcare, remote work, and distance learn, they worry about their privacy and digital security. Our federal government needs to finally pass comprehensive privacy reform that establishes a strong federal framework based on the principles of transparency and consumer control that would protect consumers no matter where they go across the entire internet ecosystem. All companies doing business online should be required to tell consumers about their privacy practices and obtain their affirmative consent before using or sharing consumers' data, with limited exceptions. Such an approach would better enable consumers to control how their personal data is used and shared, while at the same time allowing companies to innovate and provide improved services.
Comprehensive, Uniform, National Consumer Privacy Protection
We are hopeful that Congress will come together in a bipartisan, consensus way to take action on a comprehensive, uniform, national framework that protects consumers' privacy online and offers certainty in these unprecedented times and for years to come. This framework should seek to empower and inform consumers through rules that address five core principles:
+ Control | Opt-in consent would ensure consumers are empowered to have a meaningful, purposeful, and clear choice for each use of their data.
+ Transparency | Data collection practices – how companies collect, use, and maintain consumers' data – should be clear, concise, easy-to-understand, and readily available.
+ Parity | The same protection is applied consistently across the entire internet ecosystem, no matter what the user is doing, who is collecting it, or whether a service is free or paid.
+ Uniformity | Regardless of where you live or travel, consumers are protected by one set of rules.
+ Security | Strong safeguards (including administrative, technical, and physical safeguards) to protect consumers against data breaches or other unauthorized access.
CONCLUSION
Charter is committed to continuing to expand connectivity and to bring more people online. We have long recognized the importance of the service we provide to families, small businesses, and America's future. By bringing high-speed broadband to more people, we are empowering them to find the opportunities they need to thrive in the 21st Century. We are proud of our work to meet these needs and while the digital divide has narrowed and our efforts and investments have played a role, we know our job is not done. Too many families remain without broadband internet service, and diverse and rural communities are often the hardest hit. We look forward to working with policymakers to tackle these issues and continue our work together to bridge the digital divide.