Community Impact Programs
Investing in Our Communities: Spectrum Employee Community Grants
August 23, 2021
Share Article:
Spectrum Employee Community Grants are one of the ways Charter helps support the communities we serve while also supporting our employees already making an impact in their communities. Grant recipients are nonprofits nominated by a Charter employee who has a personal connection to the organization through volunteer support – and are organizations delivering critical services to those in need, such as homeless shelters, soup kitchens, job training centers, and clothing centers.
Charter has awarded 327 grants since the program began in July 2019. In 2020 and 2021 many of these grants were directed toward organizations that have supported their communities throughout the COVID-19 pandemic, including organizations that focus on caring for and providing resources to veterans. Three of those organizations – God's Outreach in Richmond, KY, Youth GO in Neenah, WI, and the Veterans Outreach Center in Rochester, NY – were recently granted donations in recognition of the critical role they play and hosted Charter to showcase the work they are doing in the community. These events featured remarks from grant recipients, the employees who nominated them, elected officials, and other attendees who all spoke about the importance of community-based organizations and volunteerism.
Feeding Families in Times of Crisis
God's Outreach, a food bank in Richmond, Kentucky, provides supplemental and emergency food to more than 1,600 families across Madison County. After severe flooding in the region rendered their food supplies at one facility useless, God's Outreach worked hard to help families who are struggling to put food on their tables. Charter employee Adam Agee nominated the organization, and with a $10,000 Spectrum Employee Community Grant, God's Outreach was equipped to launch a food drive for families in need.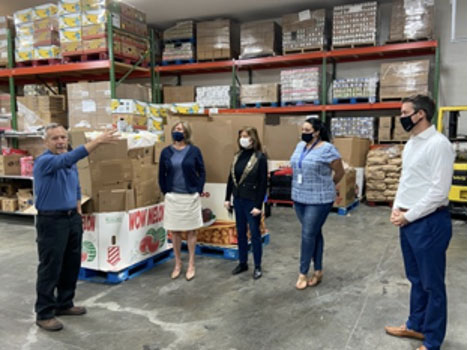 Charter employees and State Rep. Deanna Frazier tour the food bank at God's Outreach in April, 2021
Providing for Children in Need
Youth GO offers a drop-in center for 5th through 12th graders in Neenah, Wisconsin. They provide a safe place for young people to learn new things, be themselves, and have fun. During the COVID-19 pandemic, they launched a food sharing program to provide local families with food and personal care items. Our Spectrum Employee Community Grant will go toward this vital program to help meet the needs of the community. At the grant presentation, Wisconsin State Rep. Rachael Cabral-Guevara spoke about the important role that Youth GO plays in helping Neenah families and students thrive.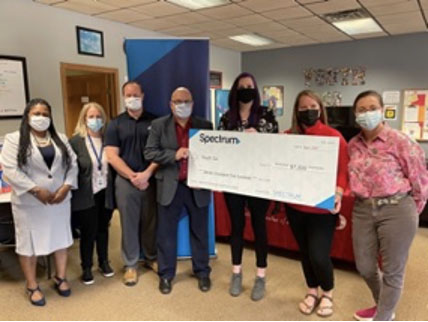 Youth GO is presented with a Spectrum Employee Community Grant
Honoring Those Who Served Our Country
A few days after Memorial Day, when our nation pauses to honor those in uniform who made the ultimate sacrifice, Charter was proud to present a Spectrum Employee Community Grant to the Veterans Outreach Center in Rochester, New York. The grant will support critically-needed services to our nation's heroes, as well as food baskets and clothing that will directly benefit local veterans in Rochester. At the grant presentation, Veterans Outreach Center Executive Director and U.S. Army Veteran Laura Stradley remarked, "These funds will go a long way toward providing job training, residential services … and so much more at Veterans Outreach Center."
U.S. Congressman Joe Morelle was also on-hand to honor the critical work Veterans Outreach Center does, saying "it's an amazing facility and does so much for the people in this community," and that this grant will help them continue to provide these much-needed services.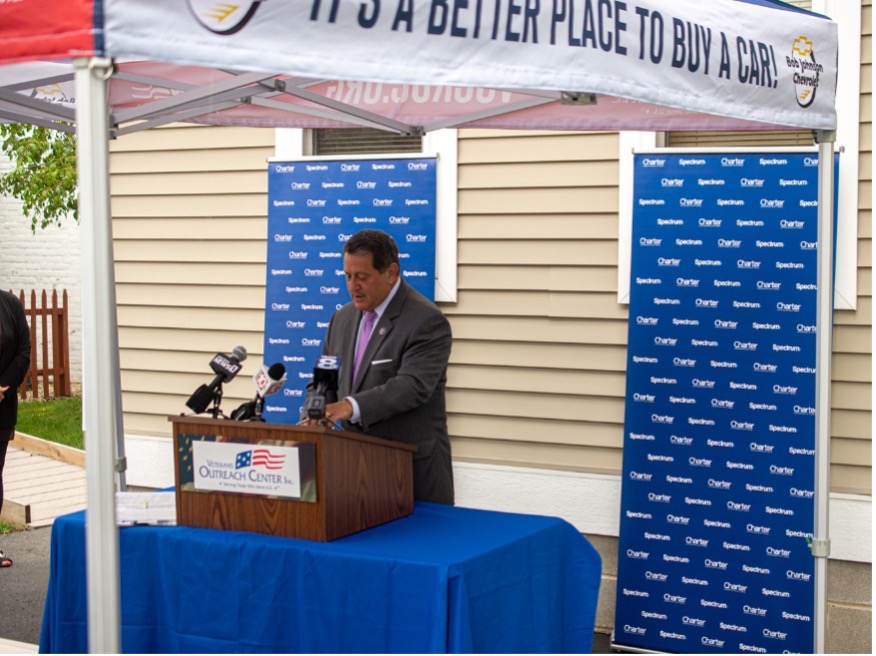 U.S. Congressman Joe Morelle speaks about the important role Veterans Outreach Center plays in the Rochester Community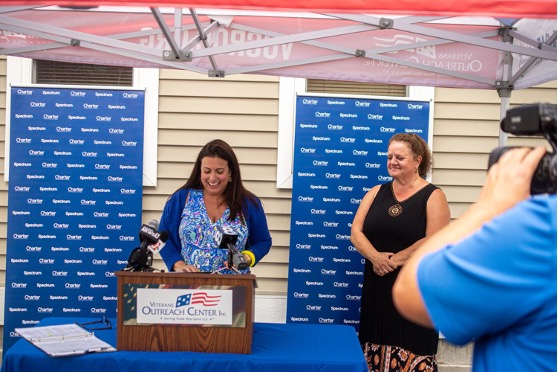 Lauren Kelly, Director of Government Affairs at Charter, speaks at the presentation to the Veterans Outreach Center
At Charter, we remain steadfast in our commitment to strengthening the communities we serve and supporting our employees who donate their time to serve those around them.