Network Investment and Access
Help Millions of Americans Get and Stay Connected
May 11, 2023
Share Article:
Even before COVID-19, there was bipartisan consensus around the policies needed to finally close the digital divide: (1) Expand high-quality internet networks to reach unserved rural areas; and (2) Help low-income families obtain the service, devices, and skills needed to get online. As the pandemic pushed so much of everyday life online, the gap between those with and without connectivity was exposed. From remote learning to work-from-home to telehealth – many of us realized for the first time the impossible situation faced by families who either didn't have internet service available or could not afford service.
Private companies and public officials worked together to bring affordable high-speed internet access to as many people as possible. Bipartisan efforts in Congress – in partnership with the Trump and Biden Administrations – delivered funding for investments to help solve both issues. Charter also has proven its strong commitment to helping to close both gaps.
Charter is

investing more than $4 billion in private funding – alongside about $1 billion in government support – in our rural construction initiative, which will bring gigabit broadband to more than a million currently unserved or underserved mostly rural locations.
Building on the success of our low-cost Spectrum Internet Assist program, Charter has actively promoted the Emergency Broadband Benefit and Affordable Connectivity Programs, including in our stores, through news and social media, on our website, and through direct mail to ensure we reach unconnected families in need. Charter's significant participation in these programs has helped families in need gain and keep access to reliable, high-speed in-home internet service.
Lawmakers should be proud of the difference they've already helped make – individual lives changed, rural towns given new opportunities to compete, and entire communities reaping the rewards. Few things matter more than continuing this progress and connecting the millions of Americans who still aren't online – and since connectivity is an economic multiplier; greater connectivity creates more economic activity benefiting everyone.
As we look to 2024, significant funding will become available to deploy broadband to reach more unserved Americans. But unfortunately, ACP funding is expected to be exhausted around the same time, putting connectivity for nearly 18 million families in need at risk. There are many reasons for Congress to reauthorize and extend this program, but the impact on individuals is one of the most compelling. Below are responses from ACP recipients when we asked what they like about the program: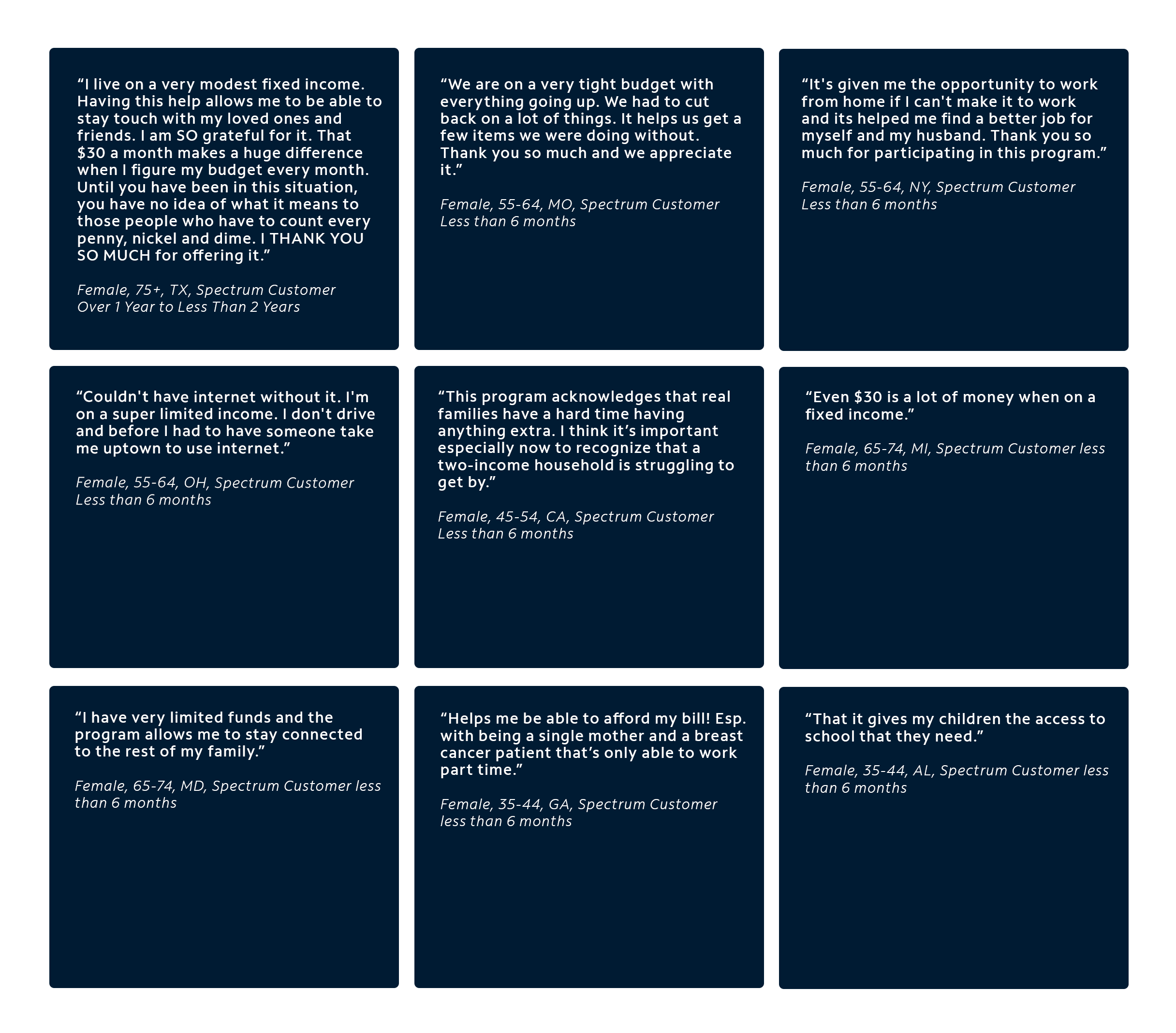 Overwhelming majorities of Democrats, Republicans, and Independents support continuing this program. We urge Congress to re-fund the program to:
Empower millions of families in need to maintain the connectivity helping to improve their economic, educational, and health outcomes.

A

2021 study

found broadband subsidy programs increase employment rates and earnings of eligible individuals due to greater labor force participation and decreased probability of unemployment, with a benefit of $2,200 annually for low-income households.

Data from Cigna Healthcare

shows that on average patients save $93-$141 when using virtual vs. in-person care. And given the significant overlap between Medicaid- and the ACP-eligible populations, the savings for the government in ensuring all can access telehealth will be significant.

Make broadband deployment programs, like BEAD, more efficient.

A Boston Consulting Group study on ACP's impact on BEAD found it reduced the subsidy needed to incentivize providers to build in rural areas by 25% per household.

Ensure ACP remains as a model of public-private partnership, leveraging the best business expertise driven by consumer choice.
Build on recent progress, enabling even more Americans to get connected.
It's not enough to share the story of the dramatic expansion of connectivity we've seen during and since the end of the pandemic. Even more important is writing the next chapter.