Community Impact Programs
Committed to Cleveland: 3 Days, 5 Events, 21 Organizations
October 5, 2021
Share Article:
Charter is committed to impacting lives and improving communities where our customers and employees live and work, including through our ongoing Spectrum Community Impact philanthropic and engagement programs:
Spectrum Digital Education Grant recipients include nonprofits working to empower low-income residents in towns and cities, boost small businesses in rural areas, and provide computer assistance to senior citizens, as well as organizations that meet educational needs for children, including those experiencing homelessness and remote learning challenges.

Spectrum Employee Community Grants are one of the ways Charter helps support the communities we serve while also supporting our employees already making an impact in their communities. Grant recipients are nonprofits nominated by a Charter employee who has a personal connection to the organization through volunteer support – and are organizations delivering critical services to those in need, such as homeless shelters, soup kitchens, job training centers, and clothing centers.
Charter, through its Spectrum Community Impact programs, recently hosted a series of five unique philanthropic events in the Greater Cleveland area over the course of a week, which included the presentation of several Spectrum Employee Community Grants and Spectrum Digital Education Grants, as well as laptop and device donations. All told, these events celebrated the work of area nonprofits supported by more than $500,000 in charitable giving.
We were thrilled to be joined by numerous Charter employees, customers, community leaders, and other residents of Greater Cleveland to celebrate the tremendous and impactful work that the featured organizations are doing for the community. We also had the privilege of welcoming numerous elected officials to these events, including State Senator Sandra Williams, State Representative Stephanie Howse, State Representative Terrance Upchurch, Cuyahoga Councilwoman Yvonne Conwell, and City of Cleveland Councilman Blaine Griffin.
"I am proud to join Charter Communications today as they support our community in helping to close the digital divide in Cleveland. Especially throughout the pandemic, Charter has been a true partner in helping our students have access to the internet and equipment, helping seniors learn digital literacy, and so much more. Now more than ever, we understand the importance of internet access. Charter's financial support and programming have made these difficult times a little more manageable for many in our community. I applaud their partnership and work to better connect Cleveland."
To learn more about the organizations and causes impacted by Charter's community impact programs, take a look at the below infographic: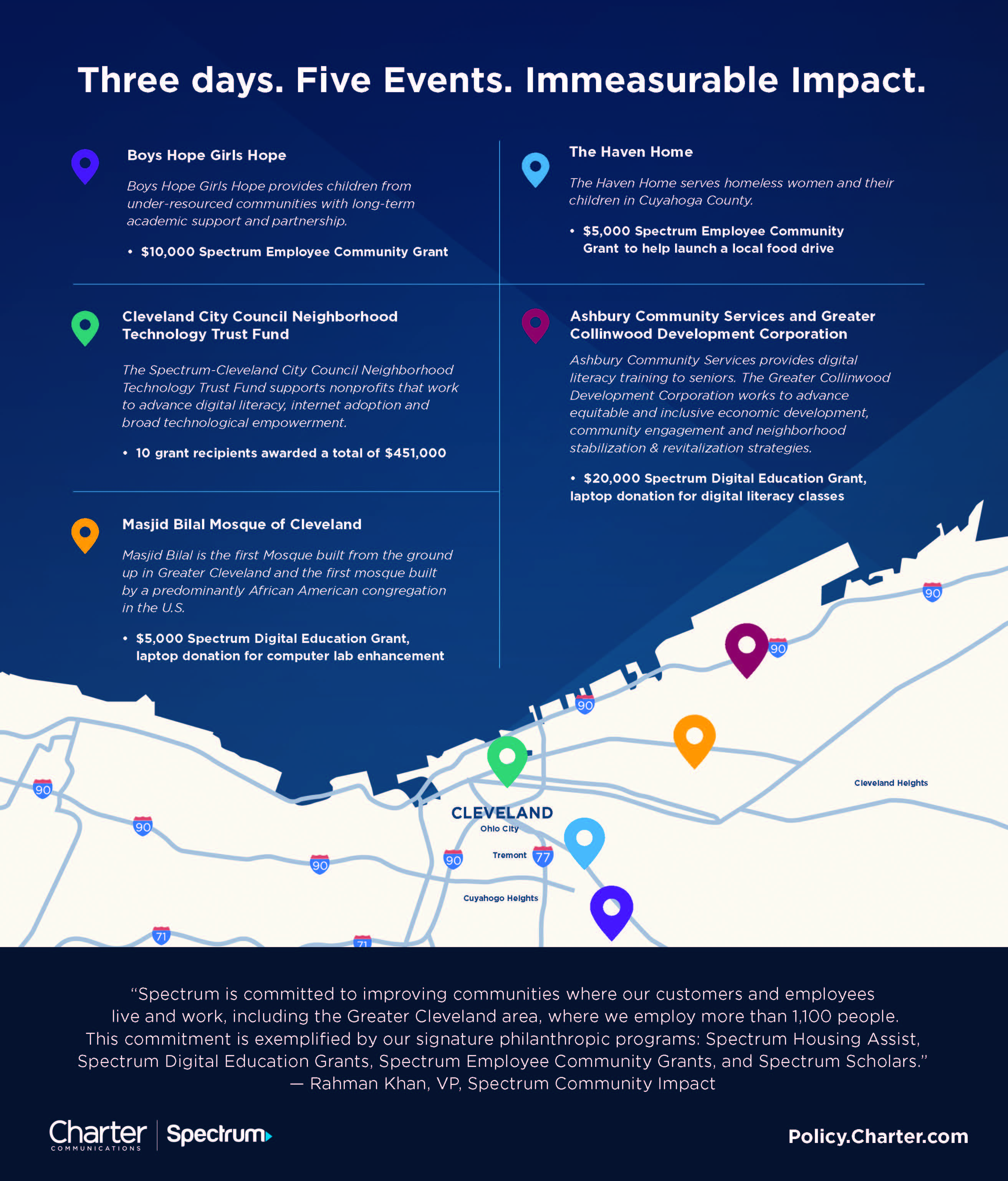 Through a longstanding partnership between Charter, Cleveland City Council, and the Cleveland Foundation, 10 Cleveland-area nonprofits were awarded grants from the Spectrum-Cleveland City Council Neighborhood Technology Trust Fund in early 2021. In total, $451,000 in funding is supporting the nonprofits' efforts to advance digital education and technology adoption among the city's residents. Charter sponsored a special luncheon at the City Club of Cleveland to recognize the 2021 awardees and celebrate the great work they're doing to close the digital divide.
To date, Charter has granted more than $25,000 to Cleveland organizations in support of access to technology and digital literacy skills through Spectrum Digital Education Grants, and through Spectrum Employee Community Grants we've donated $31,000 to Cleveland-based organizations that provide critical social needs for families in crisis and community members in need of food and shelter.
Our Community Impact programs engage employees to provide critical community repairs, provide funding to under-served communities so they can benefit from broadband, lend financial support to businesses in underserved communities, and provide scholarships and internship opportunities to underrepresented students. The places in which we live and work are the foundation of our business, and as exemplified by our recent engagement with the Greater Cleveland community, we're committed to continuing to make investments that will have a meaningful impact on them.
See photos from our recent philanthropic engagement in the Greater Cleveland area below: