COVID-19
Supporting our Latino Customers and Communities Through the Pandemic
August 14, 2020
Share Article:
Charter is proud to support the nation's leading organizations advocating for the Latino community, including UnidosUS, to build a stronger America that offers greater opportunities for social advancement and economic prosperity for everyone. UnidosUS is the country's largest Latino civil rights and advocacy organization. Through a partner network of nearly 300 affiliates across the country, UnidosUS serves millions of Latinos in the areas of civic engagement, civil rights and immigration, education, workforce and the economy, health, and housing.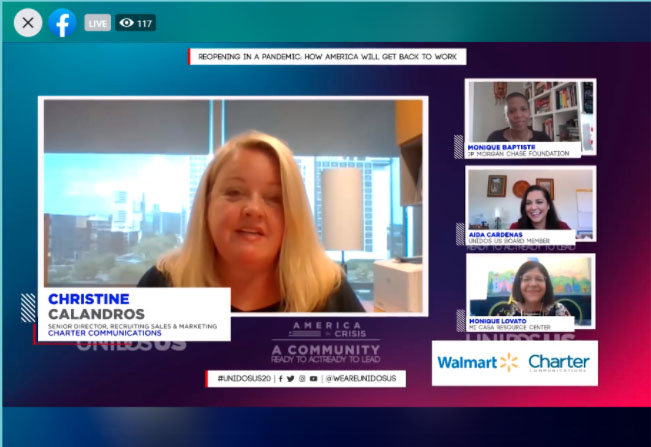 Charter sponsored the UnidosUS Annual Conference (held virtually this year), and also participated in a plenary session focused on America's return to work and the role of Latinos in rebuilding the nation's economy. Attendees of the virtual event also had the opportunity to learn about open roles at Charter, experience company work life through "day in the life" videos of our employees, and speak directly with company recruiters about career interests and opportunities.
As the country has faced unprecedented challenges over the past several months, Charter has also supported UnidosUS' efforts to help ensure Latino communities can access accurate COVID-19 information and resources in both English and Spanish. Through our partnership with UnidosUS, we are supporting community health centers that offer Latino children living in rural areas the ability to continue receiving needed care. In addition, through public service announcements and donated ad time, Charter is helping to share vital information about how to safely participate in 2020 Census efforts, as well how to access COVID-19 updates for our Latino customers with disabilities, highlighting non-profit and federal resources and providing information on how to access Spectrum's accessibility features.
Charter is continuously working to reflect the vibrant diversity of the communities we serve and enhancing diversity and inclusion in every aspect of our business, from our workforce and suppliers to the products and services we offer. UnidosUS is a member of Charter's External Diversity and Inclusion Council (EDIC), which is comprised of national civic and business leaders that help Charter understand the critical needs of diverse communities and implement its diversity and inclusion strategy in an impactful way. Charter applauds the work of UnidosUS, especially during these challenging times, and we look forward to our continued partnership supporting and serving the Latino community.