COVID-19
Supporting First Responders
April 21, 2020
Share Article: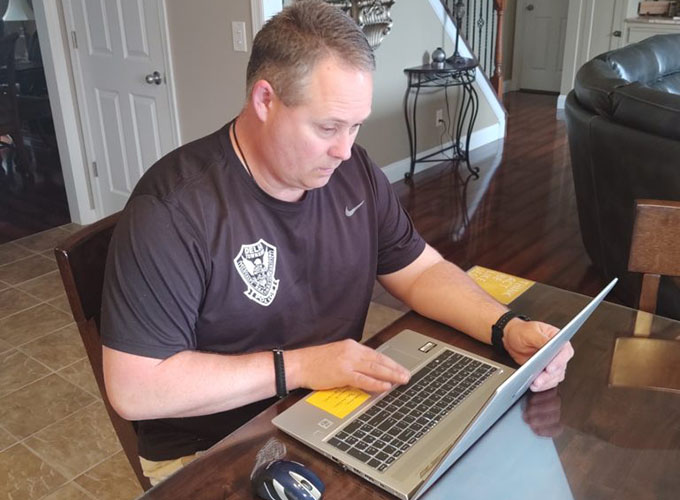 Like millions across the country, Delhi Township Police Chief Jim Howarth found himself needing to work from home because of COVID-19. As the crisis wore on, it became evident that his previous in-home internet provider was not delivering fast or strong enough service to efficiently support his work, which required keeping in touch with Town leadership via video conferencing, email, and conference calls, in addition to managing the police force. "I was having trouble with my home internet to the point that I would drive to a parking lot just to use free Wi-Fi. I quickly realized this was not going to work, so we reached out to Charter," said Chief Howarth.
Delhi Township reached out to Charter to see if there was anything the company could do to help the Chief, who oversees the police force working to keep the Township's 29,000 residents safe. Charter Area Vice President for Field Operations Jeffrey Gehrig sprang into action, helping Chief Howarth get connected to Spectrum broadband. "It only took a couple of hours to get him up and running," said Gehrig. "I am really proud of how quickly we were able to solve this problem for Chief Howarth, and help do our part to help keep our customers – who are our friends and family – safe during this crisis."
Solving the connectivity problem by switching to Spectrum made Chief Howarth's job as a first responder easier.
"Charter jumped in quickly to enable me to do my job from home, while also keeping within the stay-at-home guidelines Ohio has laid out for all of us until the crisis has passed," said Chief Howarth. "I'm thankful for Charter's quick action that means I can do my job helping protect the residents of the Township."
As the country works collaboratively to contain this pandemic, broadband internet access is vital to ensuring that people across the country are able to learn and work remotely, that businesses can continue to serve customers and that Americans stay connected and engaged with family and friends. Charter's advanced communications network will help ensure our more than 29 million customers – including first responders like Chief Howarth – government offices and agencies, health care providers and facilities, and businesses – across 41 states maintain the connectivity they rely on.