Spectrum News
Spectrum News: Commemorating MLK through a National Day of Service
January 19, 2021
Share Article:
In observance of the National Day of Service, Spectrum Networks' exclusive public affairs program, "In Focus," aired special shows honoring Dr. Martin Luther King Jr. and his legacy of volunteerism. Hosted by Spectrum News' award-winning local anchors, the "In Focus" programming featured in-depth discussions with key elected officials, community members, and service leaders on the importance of volunteering and uniting local communities in service, including:
In California, US Senator-designate Alex Padilla, LA County Board of Supervisor Holly Mitchell, and Executive Director of LA Works Debbie Brutchey joined host Tanya McRae. View this Spectrum News California In Focus program here.
In Florida, State Rep. Dianne Hart and Volunteer Florida CEO Corey Simon joined host Allison Walker Torres. View this Spectrum News Florida In Focus program here.
In Kentucky, US Rep. John Yarmuth and Lexington City Councilmember James Brown joined host Mario Anderson. View the segment of the Spectrum News Kentucky In Focus program featuring Rep. Yarmuth here.
In New York, host Cheryl Wills was joined by US Senator Chuck Schumer and Reverend Al Sharpton. You can view the Spectrum News New York In Focus segment with Senator Schumer here.
In North Carolina, host Loretta Boniti was joined by US Rep. G.K. Butterfield, former state lawmaker Ed Hanes, Activate Good Board Member Hope McFarland, Greater Charlotte Rise Organizer Jasmine Sherman, and African American Home School Moms Andrea Thorpe. You can view this Spectrum News North Carolina In Focus program here.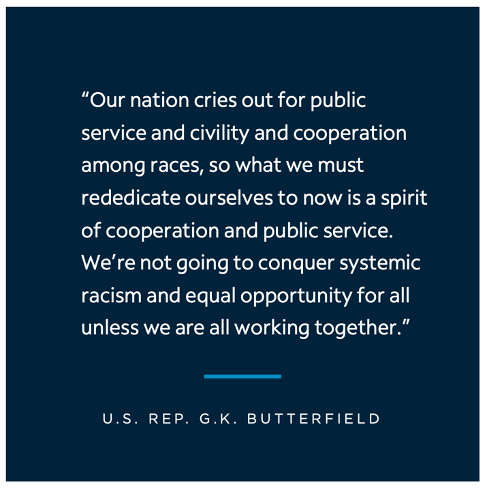 In Ohio, host Mike Kallmeyer spoke one-on-one with Columbus City Council President Shannon Hardin and Mayor of Woodmere Village Ben Holbert and Education Officer of ServeOhio Rebeccah Verhoff-Kiss. You can view this Spectrum News Ohio In Focus program here.
In Texas, host Dr. Nicole Cross was joined by U.S. Reps. Marc Veasey and Veronica Escobar. View the Spectrum News Texas In Focus segment featuring these two lawmakers here.
In Wisconsin, US Rep. Mark Pocan joined host Jason Fechner, as did President of Urban League of Greater Madison Dr. Ruben Anthony and Director of Communications of United Way of Greater Milwaukee and Waukesha County Dan Herda. View the Spectrum News Wisconsin In Focus segment featuring Rep. Pocan here.
Spectrum News' "In Focus" programs are exclusively available to Spectrum video and internet customers in New York City, Upstate New York, Ohio, Florida, Kentucky, North Carolina, Texas, Wisconsin and California.