Community Impact Programs
Partnering with National Action Network to Increase Access to Competitively-Priced Banking Solutions
January 18, 2021
Share Article:
African-American-owned small businesses have experienced disproportionate devastation during the pandemic crisis.
41% of African-American-owned and 32% of Latino-owned businesses disappeared between February and April of this year according to a recent National Bureau of Economic Research
In a survey by Goldman Sachs, 31% of African-American-owned small business owners said less than 25% of their pre-COVID revenue has returned, versus 16% of all respondents. It also found that of African-American-owned small business owners who had received PPP loans, 39% were forced to lay off employees or cut wages by September 2020 due to PPP loans being exhausted.
National Action Network (NAN), a leading civil rights organization founded in the spirit and tradition of the principles of Dr. Martin Luther King Jr., has stepped up to help. NAN and Charter recently announced a $1.5 million loan to Carver Bank, a Community Development Financial Institution providing access to reasonably priced loan capital and no-cost financial literacy training to aspiring Minority-and Women-owned Business Enterprises (MWBEs) and consumers across the New York City area. "NAN's partnership with Charter Communications to invest significant dollars in the Black community couldn't come at a better time and will help ease the economic hits Black businesses have taken in the wake of the COVID-19 pandemic," said Reverend Al Sharpton, NAN's Founder and President.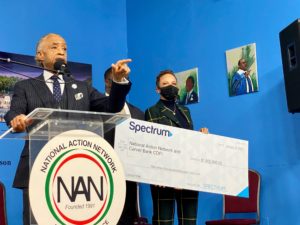 For more than 72 years, Carver has been providing access to a full range of competitively-priced banking solutions to its customers, regardless of their income level. Today, Carver is the largest African- and Caribbean-American managed bank in the United States.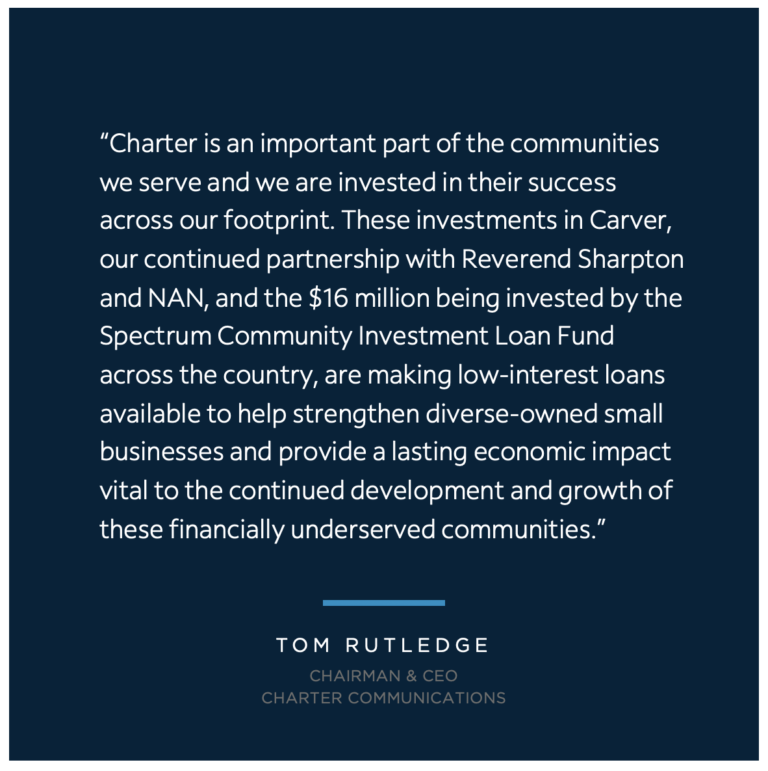 NAN and Charter's investment in Carver Bank will help strengthen minority-owned small businesses, which will have a positive long-term economic impact on the development and growth of communities. "I'm especially proud to launch this on the day we honor Dr. King because his fight for racial equality included pushing for an economy that fostered financial growth and empowerment for Black people. This investment and the vital low-interest small-business loans it will fund will continue NAN's work to achieve economic equality and support Black businesses and Black entrepreneurs," said Reverend Al Sharpton.
Charter shares that goal, which is why in June of 2020, in partnership with the National Urban League (NUL) and NAN, Charter announced a $10 million investment to support African American and other minority-owned small businesses in underserved communities. As part of the partnership, Charter's Spectrum Community Investment Loan Fund is committing to investing $3 million in low-interest loans directly to CDFIs under the direction of and on behalf of NAN. These investments – including those that will be funded by Carver Bank – are improving access to the critical financial resources small businesses need to survive and grow and ensuring the communities we serve remain vibrant and strong.