Broadband Mapping
Investing in Better Broadband Across the Country
February 23, 2018
Share Article:
Yesterday, the FCC released an updated national broadband map – a map that examines the availability of broadband across the country. While modernizing the map for the first time since 2014 is important, the information on the map reflects data only through 2016, because of how the filing dates fall and because the Commission must undergo complicated work to incorporate information from so many providers. Though we recognize those limitations, we also think it is important to note that the FCC's map does not reflect the significant speed upgrades – including the launch of Spectrum Internet Gig that delivers connections of up to 1 gigabit to customers' homes – which Charter has since undertaken.
Charter's top priority is ensuring our customers across our 41-state footprint enjoy the best and most innovative products and services possible. Since 2014, Charter has invested more than $25 billion in infrastructure and technology so that Spectrum customers from coast to coast have access to even faster speeds and can enjoy the power and opportunities that broadband can provide.
Last year we boosted our flagship broadband speed so that 100Mbps is the minimum speed we offer in virtually every market we serve. That was a 66% increase for customers as no additional cost to them. And in many markets, including cities in New York, Hawaii, Texas and North Carolina, that flagship speed is an even higher 200 Mbps.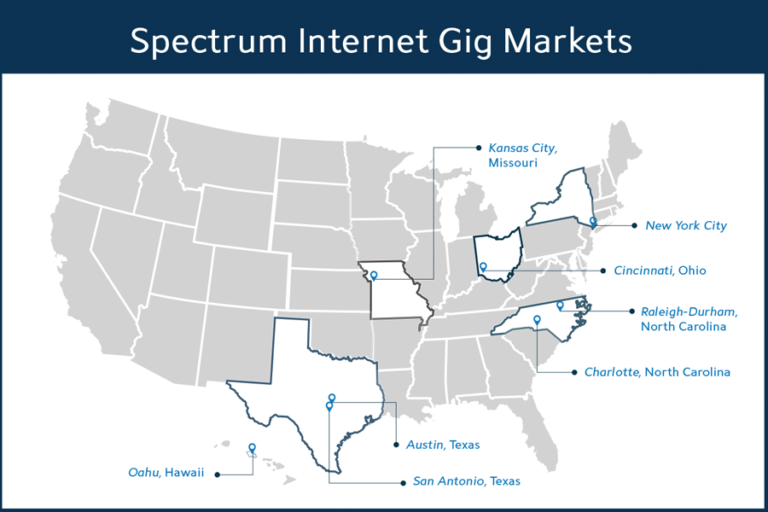 In December we also launched Spectrum Internet Gig in eight markets totaling nearly nine million passings. By the end of 2018, Charter plans to offer Spectrum Internet Gig virtually everywhere we serve.
Another important part of our investments has been expanding broadband. In 2017 alone, we expanded our network to reach an additional 860,000 homes including in underserved and unserved communities in California, Colorado, Massachusetts, Nevada, New York, Oregon, Washington and Wisconsin.
Updating the national broadband map is important step. It enables us to see the substantial changes over time and shows how far we've come in a short amount of time. We expect the next update will offer an even more complete picture for policymakers, consumers and other stakeholders. 2017 was a big year for Charter and our customers and we're excited to build on that progress.