Network Investment and Access
Flipping the WiFi Switch at the Cheyenne Depot and Museum
July 25, 2019
Share Article: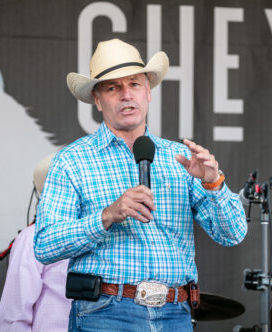 As part of the town's annual Frontier Days celebration, Charter was thrilled to be joined by Wyoming Governor Mark Gordon to "flip the switch" on a public WiFi network serving the National-landmark Cheyenne Depot and Museum. Cheyenne Mayor Marian Orr, Senator Tara Nethercott, Representative Dan Zwonitzer, City Council President Rocky Case and the Cheyenne Chamber of Commerce were all on hand to launch the WiFi network, which will help ensure that residents and visitors stay connected while exploring and dining in the Depot and Museum.
Selected by the Greater Cheyenne Chamber of Commerce through a competitive bidding process Charter designed, engineered, and installed the WiFi service. The Depot, which was built more than a century ago, is an integral part of the community and local economy as both a historic site and tourist destination.
The launch of the WiFi service serving the Depot and Museum builds on Charter's commitment to connecting residents and businesses in Cheyenne and across Wyoming. Last year, the company invested $22 million in infrastructure and technology across the state to enhance connectivity and expand broadband access including rolling out Spectrum Internet Gig with a maximum download speed of 940 Mbps to virtually our entire service area. We appreciate that the Greater Cheyenne Chamber of Commerce recognized that our investments in innovation and infrastructure well positioned us to be a unique partner to deliver the latest and greatest connectivity via WiFi to residents and visitors in downtown Cheyenne.