Network Investment and Access
Expanding Rural Broadband to 18,000 on Virginia's Eastern Shore
January 13, 2021
Small business operator Timothy Smith, owner of a local estate liquidation and fine woodworking shop in the small town of Onancock, Virginia, struggled to hear his customers on the phone and waited too long for images to load on his computer. Like far too many rural areas in the US, Accomack and Northampton counties on Virginia's Eastern Shore have struggled with access to broadband connectivity. In fact, 35% of the population in these counties lack access to high-speed broadband, according to the Federal Communications Commission's 2020 Broadband Deployment report. Charter is helping to change that statistic along the Eastern Shore.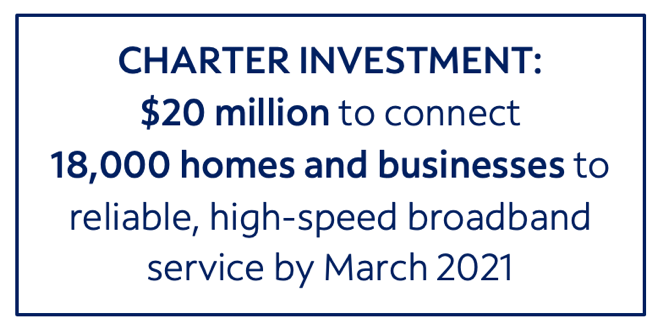 The company, through its Spectrum brand of service, has long been committed to bringing broadband service to more people in more places, including in rural communities. As part of that commitment, we are investing $20 million to bring high-speed broadband service to nearly 18,000 homes and businesses across Accomack and Northampton Counties by March 2021.
That means Virginians like Tim Smith – who is now connected to Spectrum services – can reach customers across the country to sell his products online and engage his clientele more easily. Mr. Smith says, however, the most important thing he can do with his new high-speed internet connection is FaceTime with his grandchildren.
As US Senator Mark Warner noted, "The ongoing public health emergency has starkly illustrated the necessity of broadband – and the broadband gap that too many Virginians face. I'm pleased to see Charter expand its service on the Eastern Shore and encourage ISPs to redouble their efforts to expand service to unserved and underserved Virginians during this trying time."
To celebrate Charter's commitment to the future of the Eastern Shore, along with Onancock Mayor Fletcher Fosque, we hosted special guests, Virginia Governor Ralph Northam, US Representative Elaine Luria, State Senator Lynwood Lewis, and State Delegate Robert Bloxom, to celebrate the availability of these new high-speed Internet services. We also hosted a roundtable discussion to talk about rural broadband deployment and the positive impact connectivity has on small business, education, healthcare and more.
Governor Northam has been a strong advocate for rural broadband expansion, including through support for the Virginia Telecommunications Initiative, a public-private partnership program that supports extension of broadband service and has connected 108,000 unserved Virginias since 2017, and by allocating $30 million in CARES Act funding for projects expected to connect nearly 31,000 households and businesses. 
"Expanding broadband into rural communities across Virginia is one of the most important things we can do to assist in expanding our economy and creating equity for all Virginians. It's crucial for broadband providers like Spectrum to play a role in bridging the digital divide so that everyone has access to the information and tools they need to succeed in today's environment. During these unprecedented times, these investments have become even more paramount." – Senator Lynwood Lewis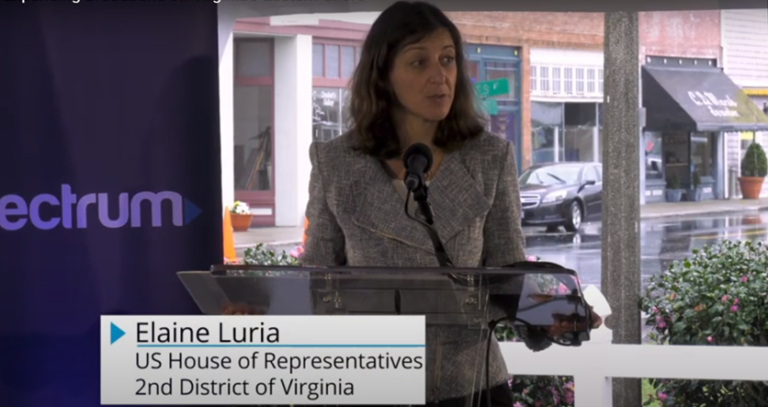 Following the announcement and community celebration, Virginia Cable Telecommunications Association President Ray LaMura moderated a discussion with US Representative Elaine Luria; Charter State Government Affairs Senior Vice President Adam Falk; James Schaeffer, President of Eastern Shore Community College; and Timothy Smith. The conversation focused on the challenges communities without high-speed internet on the Eastern Shore have faced, the importance of rural broadband deployment, and issues surrounding affordability. Mr. Schaeffer highlighted that many students at the Eastern Shore Community College sit in the school's parking lot to access the internet, and even as a member of the college's faculty, he too has found himself in the school's parking lot trying to get his work done. 
In the last three years alone, we've invested more than $20 billion in American infrastructure and technology and expanded our network to reach nearly 2.5 million new homes and businesses, about one third of which were in rural areas. Our recent investment in the Eastern Shore of Virginia is an investment in the future of the region and we remain committed to expanding access to life-changing connectivity and helping to close the digital divide. 
Check out highlights from our speakers: