Community Impact Programs
Enhancing Our Commitment to Local Communities with Employee Nominated Grants
August 14, 2019
Share Article:
Charter's 98,000 employees serve communities large and small across 41 states, from Florida to Minnesota, and New York to Washington. Because we live and work in these local communities – whether they are rural, urban or suburban – Charter is committed to helping make them stronger. That's why we recently announced a new philanthropic program called Spectrum Employee Community Grants, which will enhance the positive impact our employees are already making in their communities.
These donations will build on our employees' strong community connections by providing funding of up to $5,000 to local nonprofits that provide critical social services, including homeless shelters, soup kitchens, job training centers and neighborhood safety groups. Each recipient of one of the Spectrum Employee Community Grants has been nominated by an employee who has a personal connection to the organization and has volunteered there for at least a year. In our first round of funding, Charter has donated to 43 worthy organizations in 17 different states. These include the St. Clair Hearts Foundation, an organization in St. Peters, Missouri that helps homeless veterans find housing, food, and jobs and The Children's Shelter in San Antonio, Texas, an emergency shelter for child survivors of abuse, neglect and abandonment.
With Spectrum Employee Community Grants, Charter is recognizing the commitment and support our employees devote to their communities through their volunteer efforts as well as the work they perform every day on the job. For two years, employees at our Appleton, WI call center have supported Pillars, a local organization working to address homelessness in the community. Now, in addition to collection drives and serving dinners, our call center employees recently presented Pillars with a $2,500 donation to further their mission. Spectrum employee Kimberly Barnhart volunteers once a month at Dress for Success in her community of St. Charles, Missouri, and nominated them for the grant to help in their mission to provide families with job-seeking resources and a plan to break the cycle of generational poverty.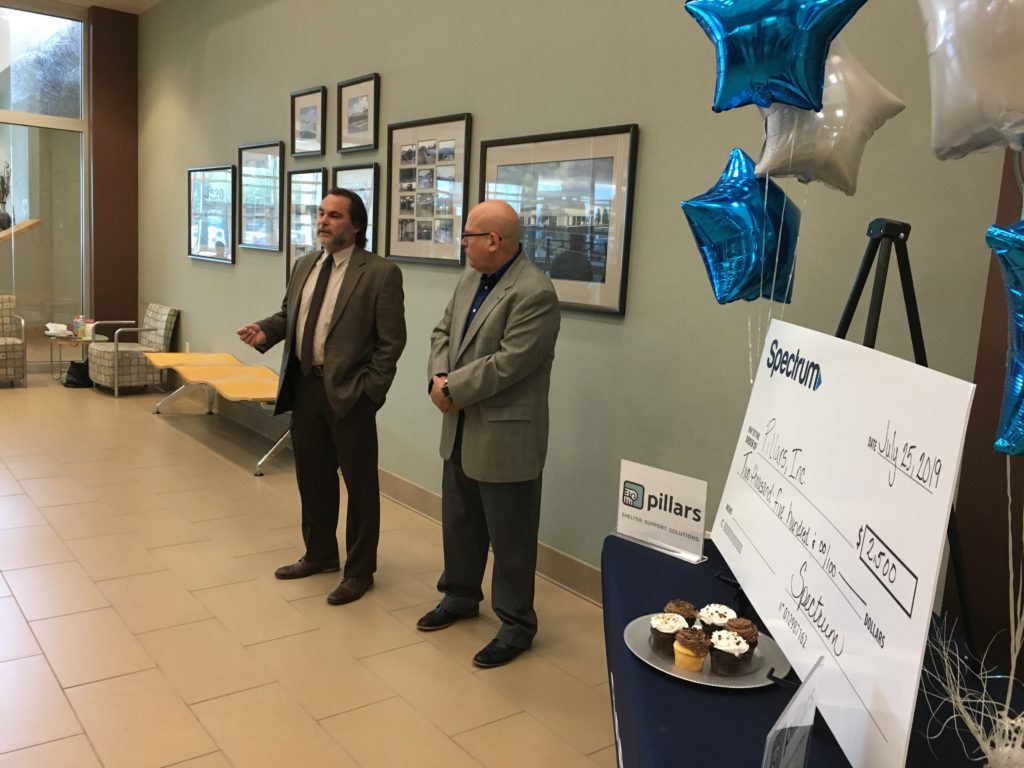 Spectrum Employee Community Grants build on our company-led volunteer opportunities like Spectrum Housing Assist. As part of that initiative employees have logged more than 43,000 volunteer hours to improve more than 33,000 homes through July 2019. Charter employees don't just work in their communities, they also volunteer their time to make them better. Through Spectrum Employee Community Grants we are proud to help enhance their efforts and recognize these vital community organizations.