Investing in Our Workforce
Why Charter is providing a $15 per hour minimum wage
February 2, 2018
Share Article:
Charter is proud to be a company that values our workers. Whether it is our robust benefits, retirement security or opportunities for advancement, Charter is a company where our workers don't just do their job, they build careers.
Now, we're taking it even further.
With the resources and investment confidence resulting from historic tax reform legislation and the FCC's removal of the 1930s era regulatory framework for internet service, Charter is increasing our investment in our workforce by ensuring all employees are paid a minimum wage of at least $15 per hour, including target commissions, within the next year.
Charter's workforce is key to the success of our company. Our commitment to pay every employee at least a $15 per hour income will enhance our efforts to develop our highly-skilled, diverse and locally based workforce, improving their lives and the lives of the customers they serve.
In addition, the reforms in Washington are allowing Charter to increase its capital investment including in its broadband network. Last year, given the general deregulatory environment and anticipating the Administration, Congress, and the FCC enacting these pro-growth policies, we announced we would hire 20,000 employees and invest $25 billion in infrastructure.
Today, with tax reform and the removal of the Title II statutory framework both a reality, Charter will continue the capital investment program we started last year and will complete it by 2020. In 2017, we extended the reach of our high-speed broadband network in rural areas like Meeker, CO, Lakeview, OR, Hawthorne, NV, as well as to more than 42,000 underserved and unserved homes and businesses in New York State. Charter remains steadfast in our commitment to continue to bring our broadband service, with a minimum speed of 100 Mbps, to more communities across the country.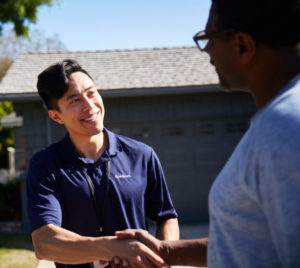 Raising our minimum wage is the right thing to do for our employees and our company. The majority of our employees are call center representatives, field technicians and staff at Spectrum stores. They interact with thousands of people every day and are the face of Charter to our more than 26 million customers across our 41-state footprint.
These employees are the key ingredient to helping us deliver on our core business objective of providing superior products with great customer service. A $15 per hour minimum wage for these valued workers builds on our commitment to hire over 20,000 employees by 2020 and will enable us to better attract, train and retain the highly skilled, diverse workforce we want and need to solve our customers' problems or install cable broadband service in their homes.
There is an important national conversation going on right now about wages. As a Fortune 100 company, we understand that we must not only provide jobs for our employees, but careers that help families send kids to college or make a down payment on a home. Moving towards a $15 per hour minimum wage will help Charter's 95,000 workers continue to do just that. A higher minimum hourly wage will put more money in their pockets and help put them and our country on track for an even better future.