Community Impact Programs
Celebrating the National Day of Service and the Presidential Inauguration
January 20, 2021
Share Article:
CELEBRATING THE NATIONAL DAY OF SERVICE AND THE PRESIDENTIAL INAUGURATION
To commemorate the National Day of Service for the Inauguration of President-elect Joe Biden and Vice President-elect Kamala Harris celebrating and honoring the spirit of Dr. Martin Luther King Jr., Charter held a series of events with local nonprofits and was proud to serve as a sponsor of the Presidential Inaugural Committee.
As a company committed to supporting the communities where our employees and customers live and work, Charter was honored to sponsor the Day of Service & Unity and to join in service, supporting and highlighting the work of our employees, community-based organizations, and small businesses across our footprint.
HONORING THE NATIONAL DAY OF SERVICE THROUGH SPECTRUM EMPLOYEE COMMUNITY GRANTS
To commemorate the National Day of Service Charter held a series of events with local nonprofits that have received support through our Spectrum Employee Community Grants commitment, which has awarded support to 225 organizations across 30 states since the program began in July 2019.
Spectrum Employee Community Grants enhance the positive impact our employees are already making in their communities – each grant recipient has been nominated by an employee who has a personal connection to the organization through volunteer work. Grant recipients are organizations delivering critical services to the community residents in need and include organizations such as homeless shelters, soup kitchens, job training centers, and clothing centers.
In the words of Martin Luther King Jr., "Life's most persistent and urgent question is, 'What are you doing for others?'" On the National Day of Service, and every day, we're proud of our employees who invest their time and talent answering that very question and proud to support vital community organizations working hard to enhance the lives of others each year. You can learn more and watch our events with Hope Center in Waukesha County, Wisconsin and the United Way of Sullivan County in New York here.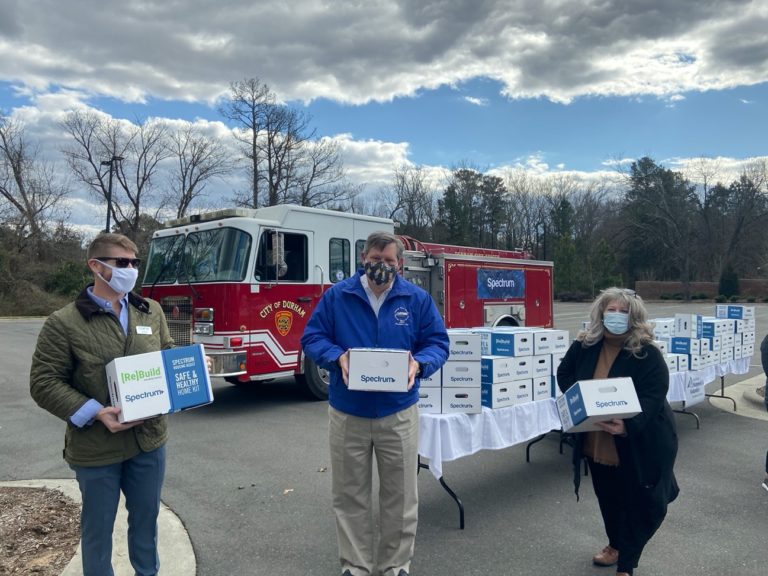 DISTRIBUTING CRITICAL RESOURCES IN DURHAM, NC
In an effort to bring critical resources to those most affected by COVID-19, poverty, and in justice, Charter partnered with the Triangle Nonprofit and Volunteer Leadership Resource Center to distribute 200 Safe and Healthy Home Kits in the heart of southwest Durham, NC. The kits are equipped with more than $100 worth of critical tools to keep homes safe, including a first aid kit, weather radio, and sanitizing spray, providing needed relief for households impacted by the pandemic. Learn more here.

SPECTRUM NEWS: COMMEMORATING MLK THROUGH A NATIONAL DAY OF SERVICE
In observance of the National Day of Service, Spectrum Networks' exclusive public affairs program, "In Focus," aired special shows honoring Dr. Martin Luther King Jr. and his legacy of volunteerism. This special programming featured in-depth discussions with key elected officials, community members, and service leaders on the importance of volunteering and uniting local communities in service, including:
PROVIDING NATIONAL COVERAGE AND LOCAL ANALYSIS OF THE PRESIDENTIAL INAUGURATION
Spectrum News is providing week-long coverage of the inauguration and associated events, with reporters on the ground in DC delivering daily reports from the nation's capital and Spectrum News reporters in regional markets across the country embedded to cover the issues on a state and local level. Throughout the week, Spectrum News' local political programs will air special inauguration editions featuring commentary and analysis with local experts and cross-platform coverage will feature daily blogs from political anchors and digital journalists on the Spectrum News App and SpectrumNews1.com.
PARTNERING WITH NATIONAL ACTION NETWORK TO SUPPORT MINORITY-OWNED SMALL BUSINESSES THROUGH LOW-INTEREST LOANS
As part of our continued partnership with National Action Network (NAN) to support minority-owned small businesses through low-interest loans, we announced a $1.5 million investment in Carver Bank on Martin Luther King Jr., Day. Carver Bank is a Community Development Financial Institution providing access to reasonably priced loan capital and no-cost financial literacy training to aspiring Minority-and Women-owned Business Enterprises (MWBEs) and consumers across the New York City area.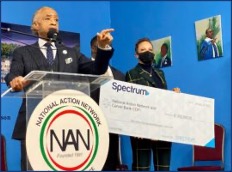 "NAN's partnership with Charter Communications to invest significant dollars in the Black community couldn't come at a better time and will help ease the economic hits Black businesses have taken in the wake of the COVID-19 pandemic," said Reverend Al Sharpton, NAN's Founder and President. "I'm especially proud to launch this on the day we honor Dr. King because his fight for racial equality included pushing for an economy that fostered financial growth and empowerment for Black people. This investment and the vital low-interest small-business loans it will fund will continue NAN's work to achieve economic equality and support Black businesses and Black entrepreneurs."
"Charter is an important part of the communities we serve and we are invested in their success across our footprint," said Tom Rutledge, Chairman and CEO of Charter. "These investments in Carver, our continued partnership with Reverend Sharpton and NAN, and the $16 million being invested by the Spectrum Community Investment Loan Fund across the country, are making low-interest loans available to help strengthen diverse-owned small businesses and provide a lasting economic impact vital to the continued development and growth of these financially underserved communities."
Read more about our support for NAN and Carver bank here.