Investing in Our Workforce
Celebrating Apprenticeship Program Launch with Florida Governor DeSantis
August 8, 2019
Share Article:
Charter welcomed Florida Governor Ron DeSantis to our Regional Operations Center in Hillsborough County, where he helped celebrate the launch of our Broadband Field Technician Apprentice Program in Florida where over 650 employees are eligible to enroll. And with the new hire class starting tomorrow, enrollment in the program will be integrated into our new hire orientation for all Field Technicians moving forward.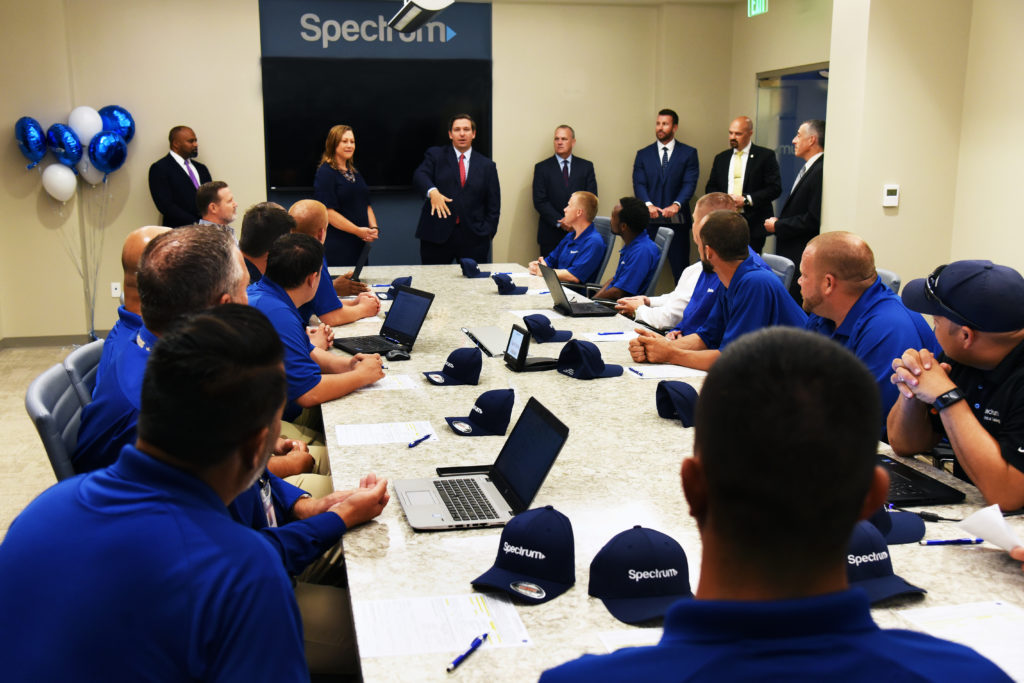 Charter is committed to driving innovation and expanding access to broadband to ensure our customers receive the information they want and need to succeed in today's hyper-connected world. In order to do that, we are constantly investing in our workforce. The launch of our Apprentice program in Florida is an important step in our overall prioritization of workforce development, which helps us attract and train the highly skilled, diverse workforce we need to best serve our 2.5 million customers across the state.
Our Broadband Field Technician Apprentice program is aligned with our broadband technician career progression. When enrollees graduate from the apprentice program, they will have an industry-recognized broadband field technician certification that they can carry with them throughout their career. The skills they develop in the program, and the national certification which stays with them will help continue to prepare them for careers in demand sectors, like the technology sector. Veterans make up a significant (11%) and valuable part of Charter's 98,000 employee workforce. For our veteran employees, the apprentice program provides an additional benefit. They can collect GI Bill benefits in addition to their regular paycheck that will help smooth their transition the civilian life. Governor DeSantis spoke on how training programs like these offer a different path to long-lasting careers.
Governor DeSantis has prioritized expanding workforce education programs and hands-on learning opportunities in the state. Most recently, his administration worked with the state legislature to pass a bill that expands apprentice programs in Florida and promotes partnerships among high schools, post-secondary organizations and local businesses that align Florida's graduates to job market demands. These opportunities provide a path for Floridians to develop new skills and compete for well-paying paying jobs in today's global economy.
Charter's dedication to our employees extends beyond workforce training – all Charter employees receive a starting wage of at least $15 an hour, robust health care benefits and a generous retirement program. Investing in our workforce enables employees to build long term careers with us. Charter's well-trained workforce helps our business thrive and ensures that we can deliver the next generation of technical solutions for our customers in Florida and beyond.