Network Investment and Access
Bringing Spectrum Internet Gig To Maine
December 20, 2018
Share Article:
This December, Charter launched Spectrum Internet Gig into another 1 million homes and businesses, including those in Portland. Charter is proud to deliver gigabit connections across virtually our entire 41-state service area to 50 million locations and counting.
Charter was joined by Maine Governor-Elect Janet Mills and other state and local officials at Sea Bags on Custom House Wharf to highlight the rollout of Spectrum Internet Gig, which offers a one gigabit connection (maximum download speed 940 Mbps) to customers' homes and businesses, throughout Charter's service area in Maine. Sea Bags is a Spectrum Business customer who manufactures and sells tote bags and accessories made from recycled, timeless sailcloth from around the world.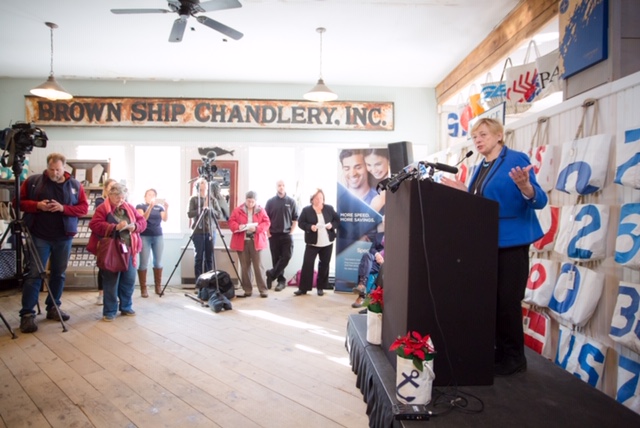 Spectrum Business Internet Gig connects customers like Sea Bags to the robust internet speeds they need to power their work and grow their businesses –and their local economies with them. Charter is fully committed to bringing faster internet speeds to all communities we serve, whether they are in urban, suburban or more rural areas. This means that Spectrum Internet Gig is not only available to Mainers living in Portland, it's available to residential and business customers in communities like Hollis and Harrison, Dixfield and Dexter, Milbridge and Madawaska. All in all, more than 650,000 homes and businesses in 291 communities in Maine now have this option for dramatically faster internet speeds.
Governor-Elect Mills said, "In order to compete in today's global economy, it is critical that Maine people and Maine businesses have access to high-speed internet. That is why this expansion, along with the greater speeds it provides, is such an important investment in our broadband infrastructure, our economy, and our future. With the availability of faster internet speeds, especially in rural areas of Maine, we can open the state's doors to future business investment, expand educational opportunities and attract more people to live and work here."
---
Watch highlights from the event here:
---
The applications of today and tomorrow like the Internet of Things, telemedicine, education and entertainment services increasingly rely upon a lightning fast internet connection like Spectrum Internet Gig provides. According to Sea Bags owner Beth Shissler, the enhanced broadband speed will provide Sea Bags with better connectivity in their internal operations and improve information and data sharing between the main store and warehouse, and serving their many online customers across the country.
Since introducing Spectrum Internet Gig, Charter has rolled-out gigabit connections to roughly 1 million homes and small and medium-sized businesses per week, on average, now covering virtually all of our U.S. footprint. Charter is proud to make this technology available in Maine, and honored to contribute to an environment where businesses like Sea Bags can grow their businesses and realize their American Dream.