Network Investment and Access
Bringing the Benefits of Broadband to the Underserved Community of Blountstown, FL
July 10, 2019
Share Article:
At Charter, our core objective is to deliver superior products and services to our customers that enhance their daily lives. This includes expanding access to high speed broadband and the life-changing opportunities that come with it. Earlier this month, we turned that aspiration into a reality for the residents of Blountstown, Florida when we launched Spectrum Internet® offerings for our residential and business customers there.
Charter's commitment to enhancing service in Blountstown began last October when Hurricane Michael carved a devastating path through the Florida Panhandle. Large parts of our local network infrastructure was destroyed, with the storm knocking out video service in the community of 3,100 as well as in the nearby town of Chattahoochee. Charter worked to restore the existing video services as quickly as possible – but then we went further. Charter invested $7 million to construct 100 miles of fiber-optic cable and connect Chattahoochee and Blountstown to the company's network in Dothan. As a result of this investment, Charter is now able to provide dramatically improved video service and bring high speed broadband to Blountstown and Chattahoochee for the first time.
This week, Charter had the opportunity to discuss its investment in the Blountstown community during a meeting of its city council as well as distribute safe and healthy homes kits to help residents with their hurricane preparations. During her presentation, Allison Kinney, Charter Senior Director of Government Affairs, said, "with access to high-speed Internet, the doors will be open to growth, expanded educational opportunities and enhanced opportunity for Blountstown businesses to grow their customers. That's why this upgrade in the infrastructure is an important investment in these communities."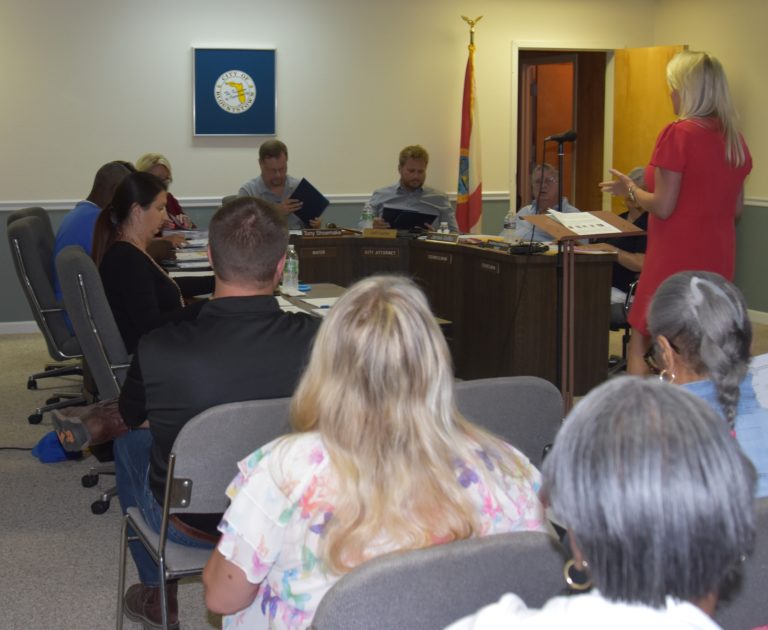 Allison Kinney presenting to Blountstown City Council
Charter is proud to work with towns like Blountstown as we continue to build our network. Since 2014, we've invested more than $32 billion in our infrastructure and technology. These investments have allowed us to both expand the reach of our network and significantly boost download speeds at no extra cost to our customers. In 2018, we extended the reach of our network to nearly half a million additional homes and businesses – with about 34% of those new homes and businesses located in rural areas. Additionally, Charter offers some of the fastest starting speeds in the industry and last year we rolled out gigabit broadband connections across virtually our entire footprint.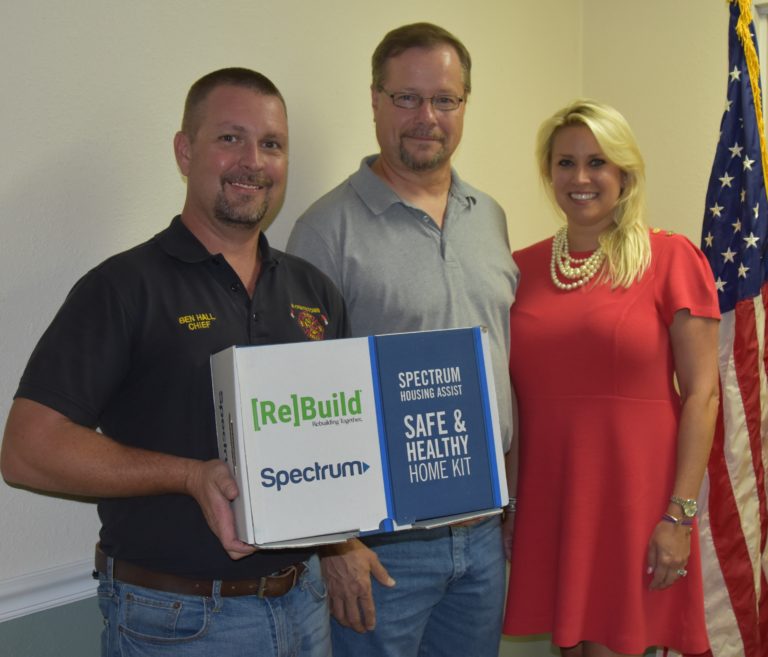 From Left: Blountstown Fire Chief Ben Hall holding a Spectrum Housing Assist Safe and Healthy Home Kit, Mayor Tony Shoemake, and Allison Kinney
Charter's investments in broadband infrastructure are investments in the economies and futures of the communities we serve. Connecting the communities of Blountstown and Chattahoochee is just the start. At Charter, we're committed to delivering faster and better broadband to more people in more places whether they live in big cities or small towns like Blountstown.