Other News
Spectrum is Transforming Everyday Life
June 14, 2023
Share Article:
Where will the next era of life-changing innovation come from? We know the answer is very likely to include spectrum.
What is spectrum?
When we talk about "spectrum" at Charter, we're often referring to invisible radio wave frequencies that allow us to send and receive data signals, connect to the Internet, and communicate with each other over WiFi, broadband, and cellular devices. Spectrum is a scarce natural resource because any one use of a portion of the spectrum can prevent another simultaneous use of that portion. But unlike other natural resources, like timber or oil, spectrum is not destroyed by use – when one use stops, it becomes available for another use.
Who owns spectrum?
Across the globe, each country's government manages and regulates the use of spectrum for itself, assigning frequencies to different types of uses and users, including connectivity companies like Charter, private citizens, and the government itself. In the US, rather than "owning" spectrum, spectrum bands (sets or ranges of frequencies) are licensed to users and subject to the rules of one of three broad license types:
We want our customers to have a seamless and ubiquitous connectivity experience throughout the day, whether they're at home or out and about – and this converged approach to connectivity means

all types of spectrum are important to Charter's offerings.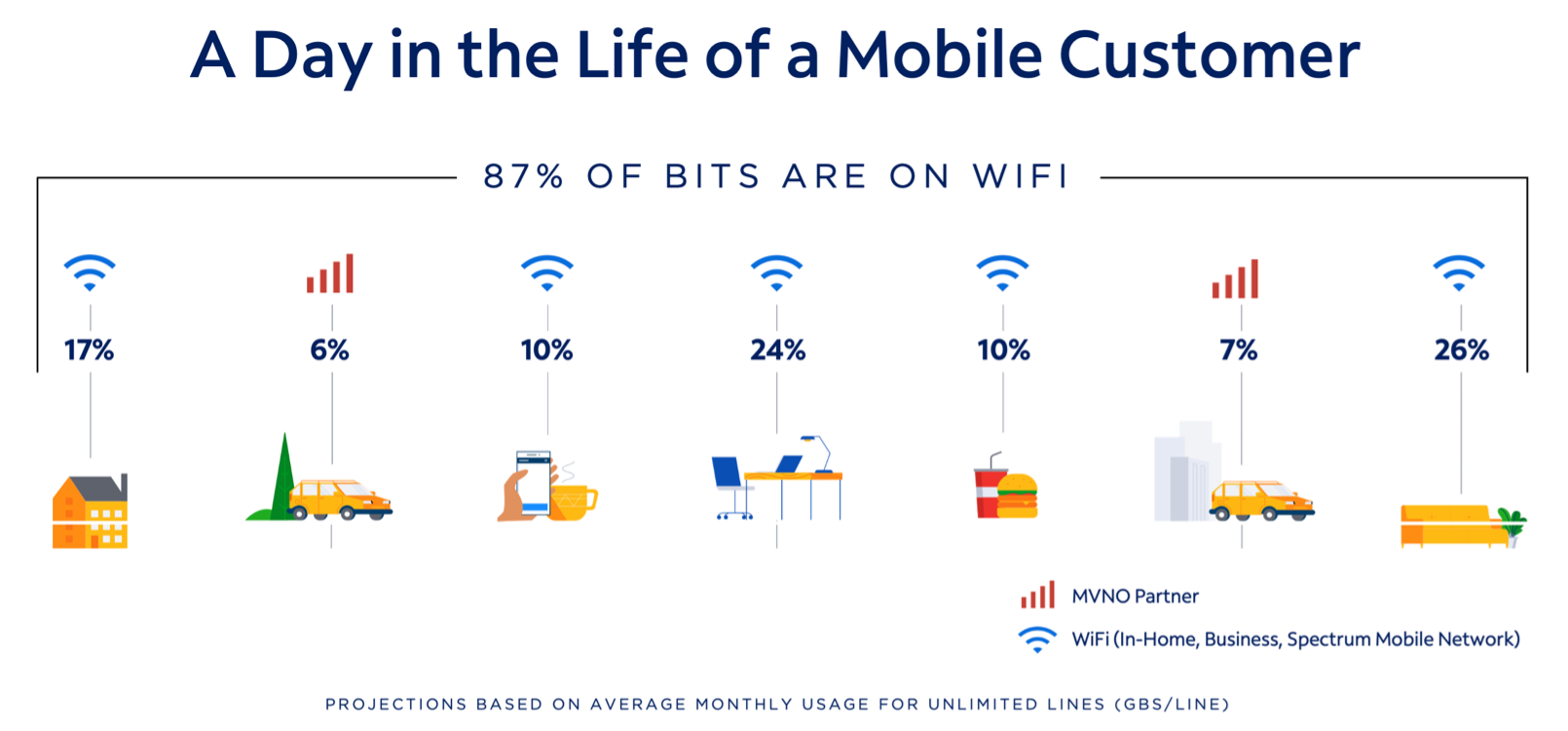 The majority of all internet traffic – and more than 87% of Spectrum Mobile customers' mobile traffic – is carried over WiFi, which runs on unlicensed spectrum. Unlicensed spectrum makes it possible for our mobile customers to enjoy WiFi's faster data speeds while also minimizing the amount of cellular data they are consuming, which helps save customers money and keep prices affordable. Charter automatically and securely connects our customers' devices to Spectrum WiFi whenever possible, using Advanced Home WiFi when they are home and our more than 500,000 out-of-home WiFi access points across our footprint – combined with approximately 25 million out-of-home WiFi access points from other networks with which we partner – when they aren't. When those options aren't available, Spectrum Mobile customers are transitioned to use exclusive licensed spectrum through our mobile (MVNO) partner.
We are constantly looking to improve the converged experience and exploring creative ways to better leverage our network to benefit our customers in the future and continue to save them money. To build on our WiFi and MVNO partner offerings, Charter participated in the FCC's first auction of new 5G mid-band spectrum, winning 210 CBRS shared licenses in 106 counties across the country. In 2022, Charter launched a commercial-grade employee trial of our own 5G mobile data-only network leveraging shared licensed spectrum as part of our broader multi-year 5G buildout. Shared licensed spectrum delivers unique benefits and will be an increasingly important option as available unused spectrum is an increasingly limited resource. Shared licensing makes it possible for multiple users of all shapes and sizes to access spectrum bands by significantly lowering the barriers to entry, particularly compared to exclusive licensing that costs billions of dollars and effectively limits access to just a few carriers.
It is because we use all forms of spectrum to provide connectivity that Charter supports a balanced spectrum policy that maximizes the efficient use of our national spectrum, balances federal government and evolving consumer needs, and produces significant economic value.
Download the PDF here.