Strengthening Communities
Teaming up with C-SPAN to Celebrate the Communities Charter Serves
May 21, 2018
Share Article:
We partnered with C-SPAN to help them travel the country! C-SPAN is touring the U.S. as part of its 50 Capitals Tour. And during this past spring, C-SPAN met with winning student filmmakers from across the country as part of C-SPAN's 2018 StudentCam Competition.
C-SPAN's 50 Capitals Tour brings the C-SPAN Bus to U.S. Capitals to welcome visitors and provide a platform for state and local leaders, educators and residents to share their viewpoints on state and national issues impacting their communities. And for the first time ever, we helped host the C-SPAN Bus in Hawaii, which had events for our students and residents on O'ahu and Maui.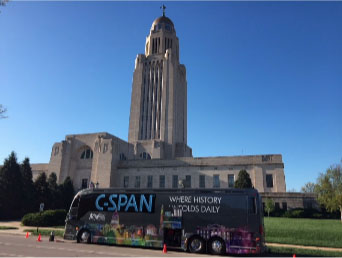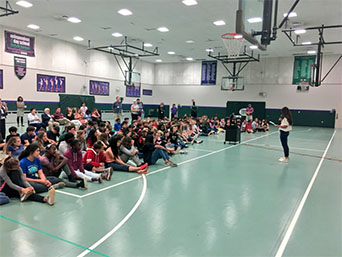 In Charter's footprint alone, 101 students were recognized and honored by C-SPAN for their work on 48 award-winning documentary films. To celebrate and encourage the work of these talented students, we co-hosted a series of award ceremonies at schools across the country with C-SPAN, local elected officials, educators, and community leaders.
For this past year's competition, middle and high school students from across the country were asked to put together a video on a topic related to the theme, "The Constitution & You." Students chose a provision of the U.S. Constitution and created a video illustrating of why that provision is important to them. You can watch all 150 prize-winning videos and hear their perspectives on various provisions from the U.S. Constitution.
Learn more about the StudentCam winners on twitter with #SpectrumStudentCam, and chart the C-SPAN's bus tour progress on their official account, @cspanbus.