Smart Cities
Laying the Foundation for a Smarter Future in Lima, Ohio
February 15, 2021
Share Article:
Have you ever been stuck at a railroad crossing for what feels like forever waiting for a train to pass?
When we think about how connectivity has changed our lives, we often first think of changes in and around our homes and offices, but connectivity also has the power to revolutionize entire cities. From motion sensor lighting to reduced water consumption and more efficient public transportation, connectivity is allowing cities across the country to find new and innovative solutions to old problems – turning themselves into "smart cities."
Charter's Spectrum Smart Cities team has long been committed to working with government and industry leaders across our footprint to help implement smart solutions that will increase efficiency and improve quality of life for residents. That's why we were excited to announce a new project to bring smart transportation solutions to the city of Lima, Ohio, alongside our Smart Cities partner U.S. Ignite, a non-profit organization seeking to accelerate the smart city movement.
Spectrum Smart Cities and US Ignite are also partnering with DriveOhio, an initiative within the Ohio Department of Transportation that serves as the state's center for smart mobility, and InnovateOhio, a state organization that is focused on using technology to improve people's lives and transform services.
Through this partnership we have awarded a multi-year grant and dedicated resources to the State of Ohio for exploring, designing, and implementing smart transportation initiatives to improve traffic and safety at numerous railroad crossings throughout the city. More specifically, this grant will be used to develop efficient ways to advise drivers about train schedules and wait times at railroad crossings, while also providing alternative route suggestions to save time. For a city with approximately 40 railroad crossings, this is a significant undertaking, but will have a huge impact on residents across the region.
"The primary goal Governor DeWine and I envisioned when creating InnovateOhio was to use technology to improve the way Ohioans live their lives. This is a great example of a private-public partnership where technology is being used to create a better transportation system. We will continue to seek new ways to use technology to improve the quality of life for Ohioans, and we look forward to collaborating with DriveOhio on this smart transportation initiative in Lima and beyond."

Ohio Lt. Governor Jon Husted, Director of InnovateOhio
"For the past four years, we have been making a shift in how we deliver services to citizens by leveraging technology to make data driven decisions. This collaboration comes at the right time, and our city is thrilled and grateful to be selected as the first city in the state of Ohio to roll out this initiative. The freight railroad system is a significant part of our city's economy and infrastructure, but we know that the sheer number of crossings causes real inconveniences and impacts everyday travel for thousands of residents and visitors. We're excited to have this collaboration and resources available to us to help advance smart transportation strategies that will deliver safer and more efficient travel for everyone in the community."

Lima Mayor David J. Berger
To announce this new, collaborative effort Charter's Group Vice President of Government Affairs, Gary Underwood, was joined by Bill Wallace, Chairman of the Board of Directors for US Ignite, and Satya Parimi, Group Vice President of Enterprise Data Products and Smart Cities with Spectrum Enterprise at Charter Communications. This event also featured remarks from Ohio's Lieutenant Governor Jon Husted, Ohio Senate President Matt Huffman, Ohio House Speaker Bob Cupp, and Lima City Mayor David Berger, who all spoke about the partnership between government and private industry to bring positive change to the residents of Lima.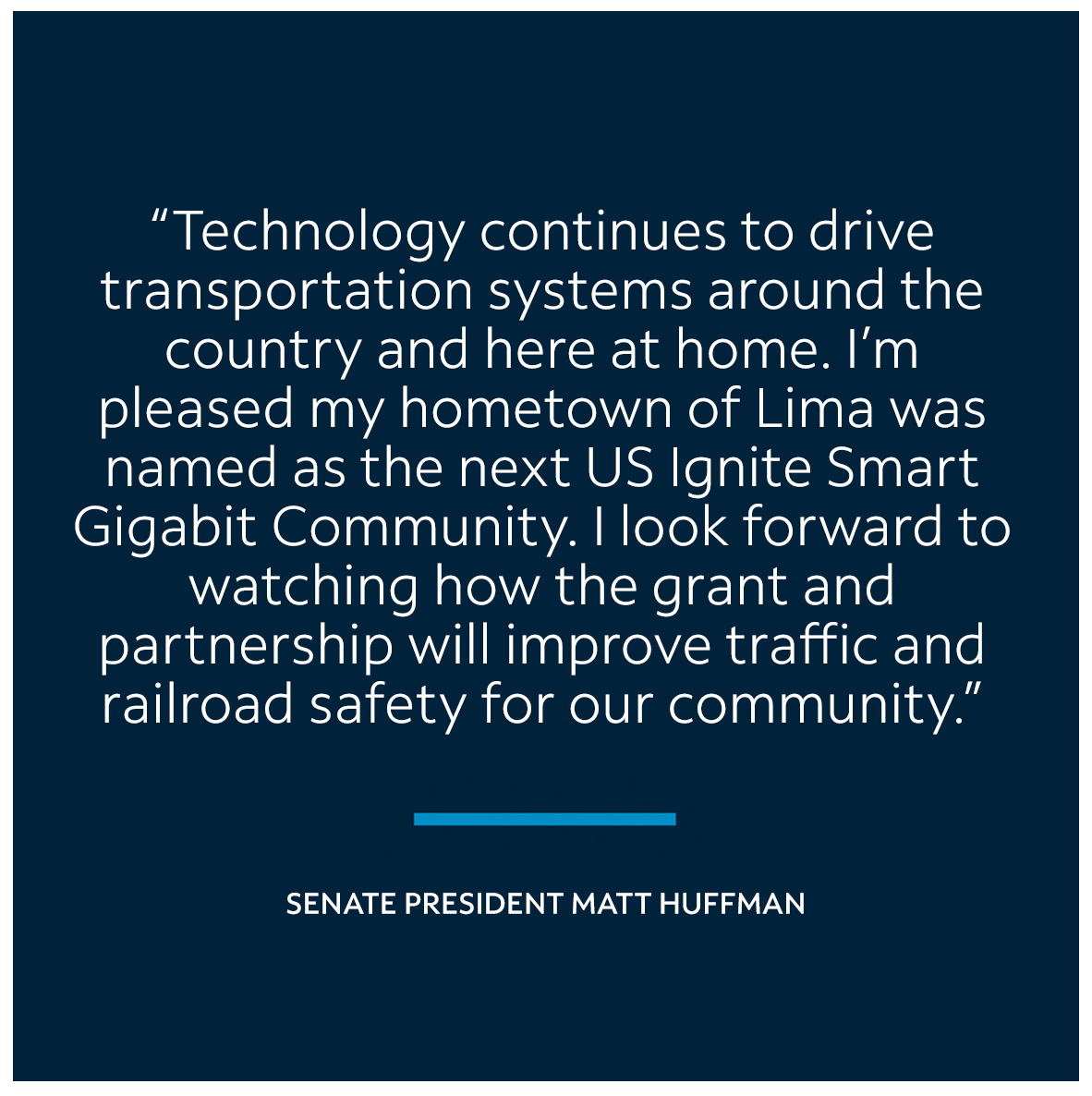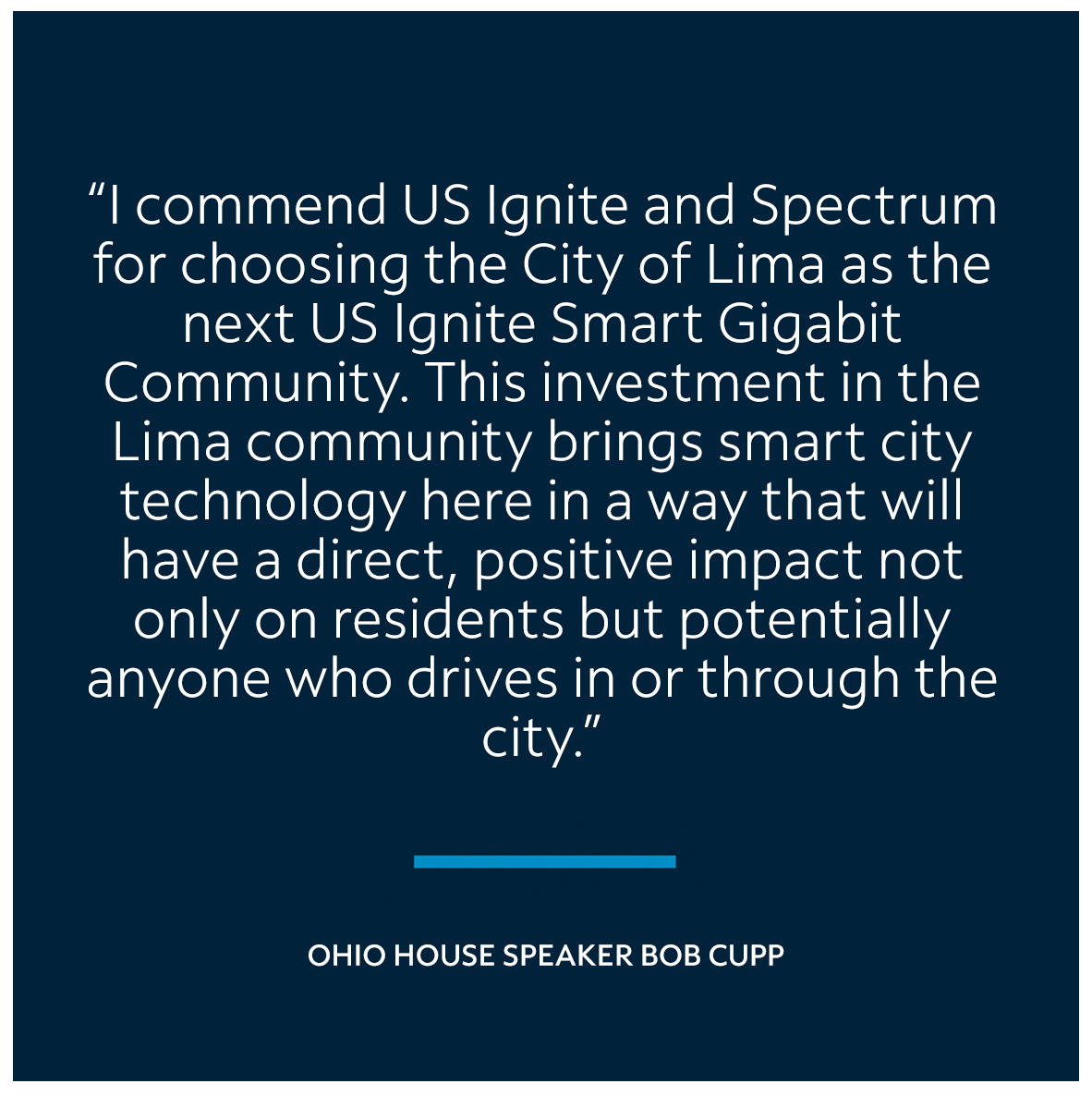 A McKinsey Global Institute study revealed that smart city initiatives can improve urban quality of life by 10%-30% and reduce average commuting times by 15-20%, which is particularly important as cities are responsible for more than 70% of global greenhouse gas emissions. And, as leaders across the US recognize and invest in the promise of smart city projects, Charter's Smart Cities team will continue to provide the resources, information, and support to help them solve problems and transform their cities.
Watch the full event below: