Network Investment and Access
Increasing Flagship Broadband Speeds; Giving Customers More For Less
November 30, 2017
Share Article:
By the end of the year, Charter's flagship speed will be an industry leading 100 megabits per second (Mbps) in virtually every market we serve. In the last year, we increased that speed 66% – from 60 Mbps to an even faster 100 Mbps – at no extra cost to our customers. Additionally, in a growing number of markets, we have begun upgrading that flagship speed to 200 Mbps.
Equally exciting, this week we announced the launch of our Spectrum Internet Gig on Oahu, Hawaii with additional markets to be launched in the weeks ahead. We will be rolling out this broadband service which delivers a 1 gigabit per second (Gbps) connection to a customer's home to almost our entire national footprint. Bringing Spectrum Internet Gig to our customers will enable them to connect their homes to the Internet of Things (IoT), stream video and enjoy enhanced gaming and other entertainment simultaneously on multiple devices.
While customers may experience these speed upgrades as if a switch has been flipped, they were made possible by Charter's ongoing investments in infrastructure and technology. These investments allow us to better serve our customers every day, in ways big and small. Since 2014, Charter has invested more than $21 billion in these critical areas.
Some of the areas we've invested in include video delivery, more efficient bandwidth management and advanced compression technologies. This investment has enabled us to improve the quality of our video while reducing the bandwidth needed for its delivery. The bandwidth that is made available can then be dedicated to significantly increasing our broadband speeds.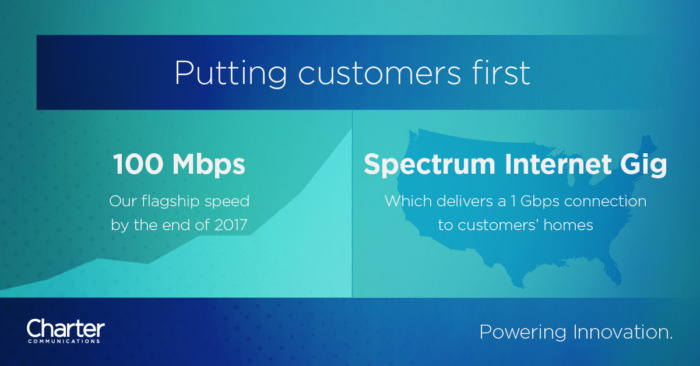 Charter is committed to delivering simple, straightforward and high-value products to our 26 million customers living in 41 states. Customers today enjoy a flagship broadband speed that is 20 times faster than it was eight years ago, while the price per Mbps for customers has decreased 93%.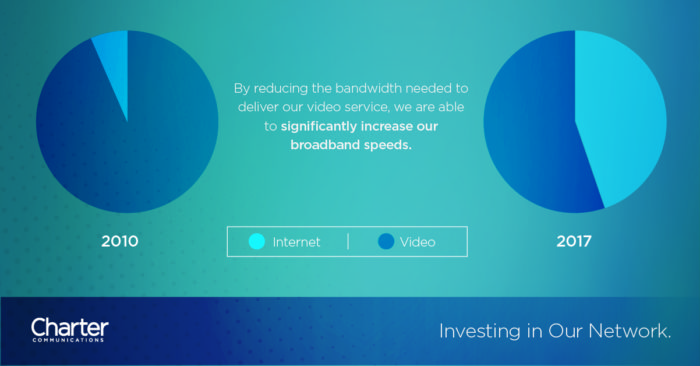 And to further ensure our customers get great value from our broadband, we don't use data caps or usage based billing and we don't charge modem or early termination fees. Charter is ensuring our customers get more for less and that's making a difference every day.